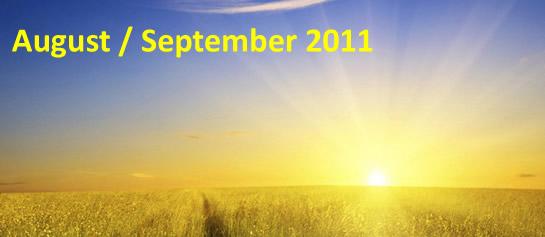 Featured Articles

For How Long will Germany Remain the World's Largest PV Market?
09/06/11- Solar Plaza
The Italian market is growing faster than ever before. In the first half of 2011, the market volume was almost three times that of Germany. Italy is on its way to becoming the world's number one market in 2011.

Wind Farm Development: Efficiently Capturing Governmental Incentives in Project Contracts
08/26/11 - Joanna Horsnail and Nate Galer - Mayer Brown LLP
Developing a wind farm is a complex process requiring the integration of a number of third parties such as engineers, contractors, and turbine suppliers/erectors. Fully capturing available federal, state, and local incentives will require communication, cooperation and some flexibility. Owners and developers should not rely on ad hoc solutions after bids are placed and contracts are signed, because that will increase transaction costs and the risk that certain incentives will be permanently lost.

The Battle for Energy
08/26/11 - Florian Ion Petrescu , Relly Victoria Petrescu - Bucharest Polytechnic University
The share of renewables in electricity generation is around 18%, with 15% of global electricity coming from hydroelectricity and 3% from new renewables. This paper aims to disseminate new methods of obtaining energy.

EU Engagement Key to Marine Energy Sector Commercialisation
08/26/11 - Tim Hurst - Scottish European Green Energy Centre
Through events, direct engagement with Commission staff and membership of technology platforms, SEGEC is focused on delivering innovative, low carbon energy projects – the key for marine energy is to unlock the deployment opportunities and to demonstrate the benefits that wave and tidal energy projects provide for emissions reduction.

Case Study: PowerScrew System
08/26/11 - Powerway Renewable Energy Co., Ltd
This 20MW Demonstration Project is the first power plant in Hainan, and it is a joint venture of Hainan Tianneng Electricity Co., Ltd., Hainan Provincial Water Conservancy & Hydropower Group Co., Ltd. and Yingli Solar. Various types of solar mounting systems, such as ground screw, concrete post, roof power plant and BIPV, will be employed.

Solar Powered Lighting Case Study - Brattleboro Hospital
08/26/11 - Contributed by - SolarOne
Even during Vermont's shortest days, the systems can collect enough energy to support their normal operation through 15 hour nights. This is partly due to algorithms built into the controller to monitor and adjust voltage from the solar module (Maximum Power Tracking).

Biofuels Potential to Transform the Global Economy
08/17/11 - John C.K. Daly for OilPrice.com
The technology is in place, the product has been certified, and at the end of the day, one is talking about an agricultural product which, depending on where it is sown, can produce one or even two harvests a year.

Clean, Reliable Power for Remote Off-Grid Communities
08/17/11 - Contributed by Ballard Power Systems
Ballard Power Systems (TSX: BLD) (NASDAQ: BLDP) provides clean energy fuel cell products enabling optimized power systems for a range of applications. Products contain proprietary esencia™ technology, ensuring incomparable performance, durability and versatility.

Case Study: Peak Demand Management with Fuel Cells
08/17/11- Contributed by Ballard Power Systems
Ballard Power Systems (TSX: BLD) (NASDAQ: BLDP) provides clean energy fuel cell products enabling optimized power systems for a range of applications. Products contain proprietary esencia™ technology, ensuring incomparable performance, durability and versatility.

Solar Thermal 101
07/31/11 - Apricus Solar
We've cobbled together some great factoids from the Apricus website to create this overview of Solar Thermal systems. Why are we not using this technology on every home that is exposed to the sun?

Smart Grid Communications: Layers and Players
07/31/11 - Colin Lippincott - FreeWave Technologies
There are a myriad of communications players (technologies) that can be deployed across the smart grid applications layers. The "best fit" technology for any one layer or overall system. The first thing to drive the communications technology decision is the objective for the system. Add in the risk profile of the company and the communications requirements start to take shape.

Biopower - Global Market Size, Feedstock Analysis, Regulations and Investment Analysis to 2020
07/31/11 - Global Data
GlobalData has released its research on the Alternative Energy Industry. Please see below for key findings from the study.

Major Asia Pacific Photovoltaic Markets to Reach 26% of Global Demand by 2015
07/31/11 - SolarBuzz News
Japanese and Chinese Markets Continue Strong Growth with New Policy Initiatives

SolarPlaza Top 10 stock listed solar energy companies
07/31/11 - Solar Plaza
The endless pursuit of solar energy as a realistic alternative energy source to fossil fuel shows no signs of waning; which is not only good news for businesses and consumers, but also great news for investors as well. Never underestimate the power of technology.

The Need for a Real Domestic Alternative Energy Policy in the USA
07/31/11 - Andrew Smolski - OilPrice.com
Alternative energy is a boom industry that needs government stimulus in order to cover the initial losses that would be incurred by private industry. All the ingredients exist to utilize this industry to bring back manufacturing to America, a sector that has been rapidly losing jobs.

Wireless Power Solutions for the Wind Industry
07/31/11 - Contributed by - Proxi
The technology was developed to replace mechanical slip rings which can be a source of problems for wind turbine operators due to the maintenance requirements and failures caused by physical connections and frictional rotation.

SunTop Case Study
07/31/11 - Contributed by - Conergy
This large-scale neighborhood solar energy project came to life in 2009 when Portland's Southeast Uplift Neighborhood Coalition, Solarize Portland and Energy Trust formed a partnership with the goal of rapidly increasing residential solar adoption in Southeast Portland.

Case Studies from SolarWall
07/31/11 - SolarWall
Here are two case studies about SolarWall. NREL - Research Support Facility is pictured below and Northern Arizona University - Distance Learning Center

Case Studies from Proven Energy
07/31/11 - Proven Energy
Here are a examples of Wind installations around the world. With an operational fleet spanning 60 countries and every continent Proven Energy's high performance wind turbines accrue over 30 million run hours annually.

AltEnergyMag – 2011 InterSolar North America Report
07/12/11 - Altenergymag
Intersolar promotes the development of business opportunities throughout the North American solar industry. There are 800 exhibitors and 22,000 trade visitors expected at the 2011 exhibition, co-located with SEMICON West. The accompanying conference expects 1,600 attendees. Since its establishment in 2008, the exhibition and conference have developed into the premier platform for the solar industry in North America. Intersolar North America focuses on photovoltaic and solar thermal technology and has quickly established itself among manufacturers, suppliers, distributors and service providers as a vital international industry meeting point.

Sponsored Articles

The Solar Decathlon 2011 - Part 4
09/13/11- Bob Hetherington - AltEnergyMag
This is the last group of entries into this years competition --- Next stop --- Washington DC

The Solar Decathlon 2011 - Part 3
09/06/11- Bob Hetherington - AltEnergyMag
Here are 5 more entries in this years Solar Decathlon for your interest and enjoyment.

The Solar Decathlon 2011 - Part 2
08/17/11 - Bob Hetherington - AltEnergyMag
Here are 5 more entries in this years Solar Decathlon for your interest and enjoyment.

Atlantis Energy Systems, Inc. Proves its Metal as Fixture in the PV Marketplace
08/17/11 - Kelly Jon Andereck for Atlantis Energy Systems, Inc.
A Case Study of an Atlantis Energy Systems, Inc. Collaboration Future House USA

The Solar Decathlon
07/31/11 - Bob Hetherington - AltEnergyMag
Here are 5 of the entries in this years Solar Decathlon for your interest and enjoyment. More to come in future issues. These students have earned the support of us all. Thanks for giving us your view of the future!

Interviews

Alternative Energy Risk Analysis
09/06/11 - Craig Husa - 3TIER
Anyone with a financial interest in renewable energy has exposure to weather and climate-related risk. Understanding, quantifying and managing that risk is absolutely essential to the successful development and operation of renewable energy projects

KACO new energy comes to North America
08/26/11 - H. Clinton Porter - KACO new energy
KACO Canada is a manufacturing and assembly plant. Components are mainly shipped from KACO headquarters in Neckarsulm Germany. Certain parts are found locally in Ontario. All assembly is done by members of the London community.

Energy Storage Solutions
08/17/11 - Interview with Michael Lippert - Saft Batteries
Energy storage is set to play a vital role in ensuring the economic viability of renewable energy by addressing its intermittency issues to make it available on demand. Equally, energy storage can play an important political role in the change to a low carbon economy by ensuring that the lights always stay on.

The Zebra Breakthrough
07/31/11
Our strategy is focused on being close to the market. For the last 25 years the photovoltaic sector has operated mainly in a horizontal fashion. Now the time for vertical integration has come, and we are well positioned for this change. With this in mind, the recent joint venture Espe-SunParc will allow Silfab to be completely involved in every segment of the downstream market, including Solar Farms.

GreenField Solar Drives Low-Cost Solar Energy to Mainstream Adoption
07/31/11 - GreenField Solar
GreenField Solar (GreenField) is a developer of high-intensity photovoltaic concentrators, which offer the potential to drive low-cost solar energy into mainstream adoption, using readily available materials and technology that is capital efficient.

Electric Vehicle Market Expansion in China
07/12/11 - Dan Malone - Dykema
China fully intends to make its automotive industry one of its pillar industries; and those who do business there must be ever mindful of that reality. China appears determined to segue from "Made In China" to "Made By China". The profundity of that change in preposition should resonate even among those doing well in China.

SunWave Technology
07/12/11 - Mary Grikas - Petra Solar
Smart Solar is highly distributed, large scale solar coupled with Smart Grid technology installed in partnership with utility companies. Smart Solar builds solar in a reliable and cost-effective way that mitigates challenges faced by traditional solar. Smart Solar is the best insurance for long-term grid stability.


Solar Installation Education
06/29/11 - Joe Thomas - MAGE SOLAR USA
PV is a proven technology, and the industry is growing at a very rapid pace. Training is essential, and NABCEP certification is driving the industry to a high standard. Train, obtain your certification, align yourself with a company that offers quality products, and stay abreast of new products, methods, processes and code changes.

Energy Conservation with Belkin Conserve
06/29/11 - Kevin Ashton - Belkin Conserve
We're on track to have 10 billion people on the planet by the end of the century, and everyone is consuming more than ever before. We face imminent extinction if we don't find a way to support more people with less energy, water, and everything else we consume. It's a big challenge, but one Belkin is becoming very focused on addressing.

More Articles

States Drive Impressive Fuel Cell Growth
07/12/11 - Evelynn Escobar-Thomas - Fuel Cells 2000
The fuel cell industry is still finding its foothold in the energy technology portfolio, but supportive state policies that help foster fuel cell installations, company relocations and growth will help keep the U.S. at the forefront of fuel cell commercialization for a wide variety of applications and power needs.

Assessment of wind resources will help onshore development to take off
07/12/11 - Peter Herbert Meier - TÜV SÜD Industrie Service
Systematic wind mapping offers a standardised data foundation for regional planning, taking the identification of areas which are particularly suitable for wind-farm projects to a completely new level. At the same time, it supports investors, planners and operators in identifying attractive sites and estimating amortisation periods. The independent TÜV SÜD experts have long-standing international experience, supporting wind projects across the world from planning to construction and operation.

St. Louis County Missouri Parks & Recreation Dept begins incorporation of Solar Equipment
07/12/11 - Daniel Poett - G2Power Technologies
The four larger panels pictured, consist of two systems. Upon a closer look, an observer will notice that visually the system is divided up in to two pairs of collectors that have a slightly different appearance from one another. Of the two pairs, one pair creates hot water for the facility and the other pair creates warm air for the structure.

European Emissions Trading System Phase III
A First Overview
06/29/11 - Bill Bizios
Several positives resulting from the Phase 1 "learning by doing" exercise assisted the ETS in making the Phase 2 process run more smoothly, including: (1) greatly improving emissions data, (2) encouraging development of the Kyoto Protocol's project-based mechanisms

Improving Conversion of Solar Leads:
Simple tips for installers to increase sales
06/29/11 - James Tong for Clean Energy Experts
For most solar companies, an increase in lead conversion by 1 percentage point would have the same impact on sales as increasing your lead volume by 10 – 20% or more. In this 4 part series, we'll cover simple tips for installers to improve lead conversion through each stage of the sales process.

Taking On Your Competitors in a Crowded Energy Market
06/29/11 - Tory Patrick - Vantage Communications
Traditional and new marketing tools will help companies stay ahead of the curve, connect with their audience in a meaningful way, and stand out among competition to grow their business.

Green Technology Inspiration
06/29/11 - Davel Foote - IpAuctions, Inc.
As the Research/Marketing Analyst for IpAuctions, Inc.™, I have explored many industries and several aspects of the Intellectual Property field. Whether we are retained to assist in licensing or selling patents outright through our live on-line auctions or private offerings, I have had many opportunities to see into the windows of inspiration and the people who drive technology's growth that most individuals are unaware of.
Comments (0)
This article does not have any comments. Be the first to leave a comment below.
Post A Comment
You must be logged in before you can post a comment. Login now.