Alternative Energy Articles from the Current eMagazine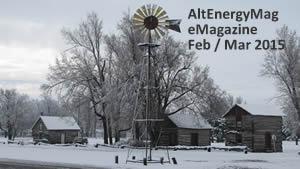 CA Lottery Hits Jackpot with Solar and Ice-based Energy Storage
04/14/14, Contributed by, CALMAC
The Pavilion of CA Lottery Uses Ice Storage and Solar Panels to Achieve Net Zero.
Developing Renewable Energy Projects on Brownfields: Mitigating Environmental Risks & Liabilities
04/14/14, Jon Benjamin and Mathew Swain , Farella Braun + Martel's Environmental Law Department
Although the environmental risks and liabilities associated with brownfields generally diminishes their viability as locations for such facilities, these risks and liabilities can often be sufficiently controlled and minimized through governmental and private party tools to make certain projects worth pursuing.
Half of power plant capacity additions in 2013 came from natural gas
04/14/14, Reprinted with permission from, Today in Energy
But Solar came second - twice as much as coal - and Wind was 4th (comment from AltEnergyMag)
Why Oil Industry Estimates for Energy Reserves Can Be an X-File
04/14/14, Dr. Alan Rozich, BioConversion Solutions LLC
Hopefully, we won't have to deal constantly with misinformation like Mulder and Scully had to when jousting with their malevolent arch-nemesis, the Cigarette Smoking Man. However, be prepared to do some digging to get at the facts.
Distributed Generations Future Impact on the U.S. Capacity Markets
04/14/14, Samir Succar, ICF International
As variable, distributed generation increasingly becomes a prevalent source of generation in regions, changes in capacity market dynamics will have a profound impact on generating assets and their future economic viability.
Alternative Energy Stories of the Day
Global Wind Power Capacity Projected To Nearly Double In 5 Years
Submitted on: 04/15/14, 02:54 PM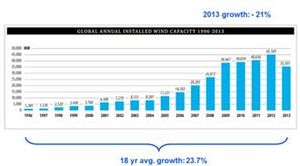 Asia is now leagues ahead of other regions within the global wind market. Furthermore, this market is expected to grow at an annual cumulative capacity rate of more than 10 percent over the coming five years. A recent Global Wind Energy Council (GWEC) report shows other significant wind energy markets of the past few years have slowed in comparison. However, overall global growth of wind energy will remain firm with a hopeful measure of expanding growth again.
The wind market for 2013 was an "off" year. Less wind energy capacity was installed in 2013 than in 2012. This disappointment saw the biggest drop in the market's relatively short life. From 1996 through 2013, annual installed capacity for wind grew at an average rate of more than 20 percent.
MIT, Harvard scientists study how to produce solar power without sunlight
Submitted on: 04/14/14, 07:45 AM
A team of researchers at the Massachusetts Institute of Technology and Harvard University are working on a technology that wouldn't require sunlight to produce solar power. The team is developing a material that can absorb the sun's heat and store th
GTM Research - Chinese solar-panel prices rising 20% in the U.S.
Submitted on: 04/10/14, 03:17 PM
The price of Chinese-made solar panels delivered to the U.S. could increase by up to 20% by the end of the year, GTM Research said Thursday. The increase is due to supply constraints, rising input costs, and the ongoing trade dispute between the two countr
Celebrating The 60th Anniversary Of The First Practical Solar Cell
Submitted on: 04/08/14, 01:35 PM
Sixty years ago on April 25, 1954, Bell Laboratories demonstrated to the world one of the most significant breakthroughs ever recorded in the history of solar energy and of electricity – the first solar cell capable of converting enough sunlight into el
Shale Gas Boom Leaves Wind Power Developers Seeking More Subsidy
Submitted on: 04/07/14, 06:23 AM
The $14 billion industry, the world's second-largest buyer of wind turbines, is reeling from a double blow -- cheap natural gas unleashed by the hydraulic fracturing revolution and the death last year of federal subsidies that made wind the most competitive of
Today's Alternative Energy Headlines
Featured Alternative Energy Product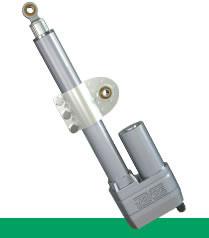 Joyce/Dayton offers a complete line of solar tracking drive jacks specifically designed for heavy-duty tracking applications. These jacks position loads at speeds typical of the solar industry. They include an integrated trunnion mount for simplified mounting, cast aluminum housing for corrosion resistance, and optimized drive efficiency for reduced operating costs. Available in acme screw and ball screw models, their flexible design can be modified to your load, speed and travel distance requirements. A full line of solar tracking drive actuators (SA) capable of moving loads up to 2000-pounds is also available. These self-locking DC powered actuators feature self-aligning clevis bearings, are lubricated for life and ideal for rugged outdoor environments. They have an IP65 rating and adjustable double clevis mounts. Available in 24 VDC and 36 VDC they have stroke lengths of 450 mm (18"), 600 mm (24"), 900 mm (36").
Featured Alternative Energy Company

(Bohemia, NY, United States of America)
Kipp & Zonen offers high quality solutions for the measurement of both natural and simulated solar radiation, from the ultraviolet to the infrared, for both photovoltaic and thermal solar energy systems.
Upcoming Alternative Energy Events and Conferences