Alternative Energy Articles from the Current eMagazine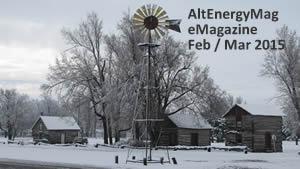 Solar Power International 2014 AltEnergyMag Tradeshow Report
10/20/14, Brandon Hetherington for, AltEnergyMag
AltEnergyMag.com has once again partnered with SPI 2014 to bring all the industry news and exciting new products to help our readers make sense of this key tradeshow. Here we have compiled a list of some product releases from this years show.
Special News Report for SPI 2014
10/20/14, Prepared by, AltEnergyMag
Here are press releases and announcements from SPI 2014. Exhibitors are welcome to post their news here too.
SPI 2014 - Interview with Mark Cerasuolo of Outback Power Technologies
10/20/14, Mark Cerasuolo, OutBack Power Technologies
For SPI in 2014, we will be introducing the all-new control capabilities of our OPTICS RE user application. Launched this spring, the OPTICS RE cloud-based user-interface application provides installers and owners of OutBack systems the ability to easily monitor PV/solar system operation, performance and output via an intuitive dashboard from any Internet-enabled device.
SPI 2014 - Interview with David Briggs of IronRidge
10/20/14, David Briggs, IronRidge
This year we are focusing our new XR Rail Family, which was first introduced in mid-July. It's a significant improvement to our Roof Mount product line, both in terms of cost and installation efficiency.
SPI 2014 - Interview with Rita Hazen of Joyce/Dayton Corp.
10/20/14, Rita Hazen, Joyce/Dayton Corp.
SPI does a good job of organizing the business areas of interest in a logical manner making it easier to focus on those areas that are important to our business.
Alternative Energy Stories of the Day
Solar Power International underway in Las Vegas.
Submitted on: 10/20/14, 05:48 AM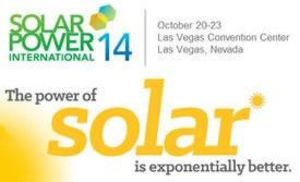 This years show takes place October 20 - 23, 2014 in Las Vegas, Nevada. Over 15,000 + visitors are expected in attendance to learn about the latest technology innovations, financing models, business best practices and policy and incentive programs that are contributing to the growth of the solar industry. With over 600 exhibitors from 100 countries on display showcasing the entire system of solar technology and advances in solar cell and module technology, balance of system components, solar heating and cooling and energy storage.
This year Solar Power International will offer 100 sessions, eight tracks, Master Speakers, 25-minute QuickTalks, and some of the best education in the industry Whether you're an attendee or an exhibitor, an installer or manufacturer.
As a media partner AltEnergyMag.com is covering Solar Power International 2014 and bringing industry news and exciting new products to our eMagazine to help our readers make sense of this massive event.
Make sure to check out our special SPI 2014 Newspage for Exhibitor news. Also stay tuned for our Tradeshow report to see what exciting new products we found at this years show.
Lockheed announces major breakthrough in nuclear fusion
Submitted on: 10/16/14, 10:07 AM
The largest military contractor in the United States is developing a nuclear fusion reactor that is small enough to fit on the back of a truck but has the ability to produce the energy required to power a warship. Lockheed Martin said in a statement released
SPI 2014: 600 exhibitors and 15,000 visitors expected
Submitted on: 10/15/14, 05:07 AM
With less than one week before the largest North America solar trade show, SPI, kicks off in Las Vegas, visitors are being advised to expect to spend their day on their feet. With the two South Halls of the Las Vegas Convention Center being consumed by the exhibition
SolarCity's CTO Peter Rive on Solar Power Plus Energy Storage
Submitted on: 10/13/14, 06:01 AM
SolarCity, the nation's largest residential solar installer and financier, is coupling Tesla's battery-based energy storage hardware with its rooftop solar systems. Peter Rive, the co-founder and CTO of SolarCity, sp
Palen solar power project near Joshua Tree scrapped
Submitted on: 10/10/14, 05:57 AM
A proposed "tower power" solar power plant near Joshua Tree National Park that drew heavy opposition from environmental groups has been scrapped. An application to state regulators for the Palen solar power project, a joint venture by Oakland-bas
Today's Alternative Energy Headlines
Q Factory 33 Introduces the B3 Bypass, the Missing Industry Element to Slash Costs and Deliver Exponential Gains In Backfeed Power Output for Renewable Energy
Submitted on: 10/21/14, 07:40 PM
Extensive calculations based on NEC Guidelines deliver backfeed power production boosts of a minimum 600% per installation, affording installers a competitive edge that saves thousands in soft and hard costs in both residential and commercial applications
SPI 2014 - Enphase Energy Enters into Energy Storage Business with AC Battery
Submitted on: 10/21/14, 07:38 PM
Introduces a modular, plug-and-play solution that is fully integrated into the Enphase Energy Management System
SPI 2014 - OutBack Power Unveils Solar Control with OPTICS RE
Submitted on: 10/21/14, 07:34 PM
Solar energy system owners can now access their systems anytime, anywhere.
Sunrun, OutBack Power Pilot Renewable Energy Storage Systems For Homeowners
Submitted on: 10/21/14, 07:32 PM
Sunrun will combine and test OutBack Power's technology consisting of weather-resistant batteries and inverters with home solar systems in both indoor and outdoor environments.
SPI 2014 - DNV GL: New comprehensive solar inverter testing service supports solar customers in lowering risk and costs
Submitted on: 10/21/14, 07:29 PM
Service for residential and commercial inverters, expands upon DNV GL's industry-leading Product Qualification Program - Third party inverter testing to validate key functionality and performance will benefit the solar industry - Advanced field testing validates inverter performance with a solar array - Laboratory reliability testing helps verify product longevity
Online Now - Solar Power International 2014 Special News Report
Publish Your Show News and see what the competition is up to.


Featured Alternative Energy Product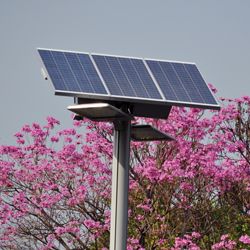 20/20™ is Sol's latest state-of-the-art LED lighting system designed for large spaces such as parking lots and perimeter security areas. It delivers superior light performance in an architectural package that increases pole spacing, lighting uniformity and simplifies installation. The 20/20's unified design incorporates a low profile LED luminaire, light engine, PV assembly and pole, powder coated your color choice. Designed from the ground up, it exceeds the demands of modern commercial outdoor solar lights to maximize your return on investment. The 20/20™ luminaire features IDA Dark Sky approved optics available in your choice of Type II, III or V.
Featured Alternative Energy Company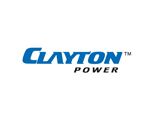 (Odense C., Fyn, Denmark)
Mobile and off-grid power systems based on lithium ion battery technology. Industries: Automotive, Industrial, Maritime, Military, Renewable Energy. Products: Lithium Ion Batteries, Sine Wave Inverters, Inverter/Chargers, Battery Management Systems, Controllers.
Upcoming Alternative Energy Events and Conferences