Alternative Energy Articles from the Current eMagazine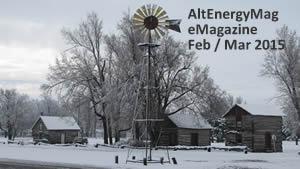 The Integrated Grid
02/27/14, Contributed by, The Electric Power Research Institute, Inc. (EPRI)
Excerpts from the EPRI Study on the Integrated Electric Grid
50-State Solar Jobs Analysis
02/27/14, Andrea Luecke, The Solar Foundation
Solar energy is still pushing its way into the mainstream. Installation is booming because people are becoming more and more aware of the value and other benefits of solar energy.
2013 Nanotechnology Patent Literature Review
02/27/14, Contributed by, McDermott Will & Emery Nanotechnology Affinity Group
For nanotechnology patent literature as a whole, Energy Storage, Photovoltaics and Petroleum Exploration emerged as the top three areas of focus in the Energy sector, each with similar growth since the early 2000s.
2014 Solar Marketing Outlook
02/27/14, Contributed by, Eco Branding
Each year, we survey a few dozen clean tech companies across many sectors of the industry – including solar, wind, geothermal and energy efficiency – to collect valuable data on marketing practices within the industry.
Case Study - Mark Abbott Memorial Lighthouse in Santa Cruz, CA
02/27/14, Ron Jones for, Quick Mount PV
Since the installation is located just 40 feet from world-class surf spot Steamer Lane, resisting the corrosive effect of ocean air required aluminum rigid conduit, stainless steel hardware, and anodized roof mounts.
Alternative Energy Stories of the Day
New Report: U.S. Solar Market Grows 41%, Has Record Year in 2013
Submitted on: 03/07/14, 05:40 AM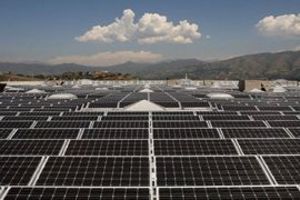 Continuing its explosive growth, the U.S. solar industry had a record-shattering year in 2013. According to GTM Research and the Solar Energy Industries Association's (SEIA) Solar Market Insight Year in Review 2013, photovoltaic (PV) installations continued to proliferate, increasing 41percent over 2012 to reach 4,751 megawatts (MW). In addition, 410 MW of concentrating solar power (CSP) came online. Solar was the second-largest source of new electricity generating capacity in the U.S., exceeded only by natural gas. Additionally, the cost to install solar fell throughout the year, ending the year 15 percent below the mark set at the end of 2012.

At the end of 2013 there were more than 440,000 operating solar electric systems in the U.S. totaling over 12,000 MW of PV and 918 MW of CSP.

The U.S. installed 2,106 megawatts in the fourth quarter alone, 44 percent of the annual total. This makes Q4 2013 by far the largest quarter in the history of the U.S. market, exceeding the next largest quarter by 60 percent. Cont'd
Follow The Money: Who Is Funding Energy Storage And Why
Submitted on: 03/05/14, 05:51 AM
To understand how the energy storage in the United States – particularly California — is heating up, just follow the money. Green Charge Networks, a Silicon Valley storage installer, announced Tuesday that it has lined
Trina Solar and ANU Jointly Develop High Efficiency Solar Cell
Submitted on: 03/03/14, 01:56 PM
Trina Solar a global leader in photovoltaic modules, solutions and services, announced today that researchers from Trina Solar and the Australian National University have jointly developed a new high-efficiency solar cell. T
Tesla to raise $1.6 billion for 'Gigafactory'
Submitted on: 02/27/14, 02:57 PM
Tesla's grand expansion plans will be funded in part by raising $1.6 billion through a bond issue that the automaker announced Wednesday. The money will be used to build what its founder Elon Musk has dubbed the "Gigafact
SMA acquires Danfoss' solar inverter business
Submitted on: 02/26/14, 06:40 AM
Germany-based SMA Solar is to acquire Danfoss' solar inverter business. Danfoss will acquire 20% of SMA's shares with a value of €302 million (US$415 million) in return for selling its inverter unit. It will receive SMA shares at
Today's Alternative Energy Headlines
Featured Alternative Energy Product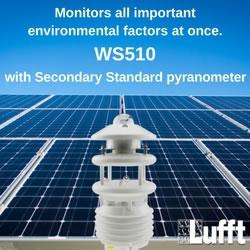 WS501 series Compact Weather Stations for measuring of air temperature, relative humidity, solar radiation, air pressure, wind direction and wind speed. Relative humidity is measured by means of a capacitive sensor element; a precision NTC measuring element is used to measure air temperature. The world renowned technology of Kipp+Zonen CMP3 is integrated. Ultrasonic sensor technology is used to take wind measurements. Measurement output can be accessed by the following protocolls: UMB-Binary, UMB-ASCII, SDI-12, MODBUS. One external temperature or rain sensor is connectable. The WS503 is a similar sensor available with a tiltable pyranometer for plane of array measurements of solar panels efficiency. Surface temperature and rainfall accessory sensors are also available as add on to the weather station.
Featured Alternative Energy Company

(Morrisville, Vermont, United States of America)
EcoFasten Solar® – Simply the best mounting systems you can get. We engineer and manufacturer roof attachment components to provide you with proven, watertight compression fit attachment brackets for any solar array on any roof type. Relying on years of roofing experience and patented technologies EcoFasten Solar® is focusing on providing the alternative energy industry with the means to penetrate roofs without the worry, hassle or expense of current methods. Visit us on the web.
Upcoming Alternative Energy Events and Conferences