Alternative Energy Articles from the Current eMagazine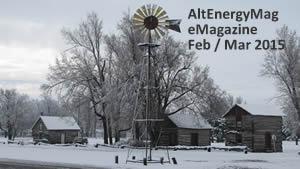 How and Where Distributed Energy Resources Will Reduce the Need for Transmission
12/01/13, Kiran Kumaraswamy, ICF International
The rapid growth of distributed energy resources (DER), a non-transmission alternative, is raising concerns over the viability and necessity of new transmission lines.
2013 completions of large solar thermal power plants mark technology gains
12/01/13, Reprinted with permission from, Today in Energy
All five of the major solar thermal projects—including Solana and Ivanpah—that are scheduled to come on line in 2013 and 2014 were awarded loans through the U.S. Department of Energy's Loan Guarantee Program.
Q3 2013 Deal Volume Comparison
12/01/13, Contributed by, Lincoln International
Merger and Acquisition information from Lincloln's Deal Reader.
Vanderbilt Proposes Building Energy Storage Into Solar Cells
12/01/13, Chris Meehan for, SolarReviews
Imagine a photovoltaic cell or module that actually stores as well as produces energy, acting as a battery and producing power even after dark.
Will You Survive Solar Grid Parity?
12/01/13, Patrick McCabe, GreenLancer.com
A path to ensure profitable installation for residential solar
Alternative Energy Stories of the Day
Hitachi Develops All-in-One Container-Type Energy Storage System
Submitted on: 12/04/13, 06:06 AM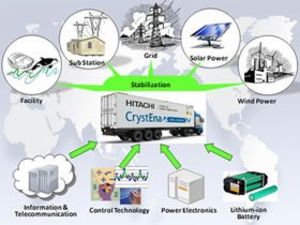 Hitachi, Ltd. announced that it has developed an all-in one, container-type energy storage system as a core energy product for ensuring the stable use of distributed renewable energy such as wind and solar power, while maintaining the power supply-demand balance. This energy storage system fuses Hitachi's electricity grid control technologies built up in the Hitachi Group and Hitachi Chemical Co., Ltd.'s battery-related expertise and will be offered as a packaged system.
In the beginning of 2014, Hitachi plans to begin a demonstration test of this energy storage system in North America. Plans call for Hitachi to reflect the results of this testing in a commercial product after verifying the commercial viability and performance of the system in the electricity trading market, or the so-called ancillary market*2 connected with maintaining the electricity supply-demand balance. Furthermore, Hitachi will examine whether to promote the system, to be named "CrystEna" (Crystal+Energy), as one of its solution businesses for expanding the transmission & distribution business in the global market.
EU Nations Approve Pact With China on Solar-Panel Trade
Submitted on: 12/02/13, 06:18 AM
European Union countries approved an agreement with China to curb imports of Chinese solar panels, ending the EU's biggest commercial dispute of its kind. EU governments endorsed
The US has 43 nuclear power plants' worth of solar energy in the pipeline
Submitted on: 11/25/13, 04:32 PM
The boom in solar energy in the US in recent years? You haven't seen anything yet. The pipeline of photovoltaic projects has grown 7% over the past 12 months andnow stands a
SolarCity Completes Industry's First Securitization of Distributed Solar Energy
Submitted on: 11/21/13, 10:46 AM
SolarCity Corp. today announced that it has completed what is reported to be the first securitization of distributed solar energy assets. SolarCity completed a private placement in the amount of $54,425,000 with an interest rate of 4.80% and a scheduled maturity
GE Promises More Wind Power Without New Turbines
Submitted on: 11/19/13, 02:15 PM
GE this fall began pushing a new bit of software wizardry that it says will boost wind farm performance. Looks like E.On is biting. GE said that the Germany-based energy giant would install PowerUp, described as a "cu
Today's Alternative Energy Headlines
U.S. Army launches fuel cell testing with General Motors
Submitted on: 12/04/13, 07:24 PM
Celebrates Cooperative Research and Development Agreements
Strike prices show solar on track to compete with fossil fuels
Submitted on: 12/04/13, 07:14 PM
Support levels post 2015 higher than STA requested Mid-sized solar schemes (sub-5MW) still excluded Key details still to be resolved
ReliOn Launches Enhanced E-200 Fuel Cell System
Submitted on: 12/04/13, 07:07 PM
Addressing Low Power Projects for Railroad and Telecommunications Customers
Injection of Hydrogen into the German Gas Distribution Grid
Submitted on: 12/04/13, 07:05 PM
The first ever plant to convert electricity into hydrogen and subsequently inject the hydrogen into the German gas distribution network.
Business Review selects Siemens wind turbine rotor blade for Innovation in Renewable Energy Award
Submitted on: 12/04/13, 06:58 PM
Clean Technology Business Review has declared Siemens' wind turbine rotor blade the winner of the 'Innovation in Renewable Energy' Award.
Tradeshow News Reports Online Now

Solar Power International 2013
Exhibitors and Attendees - Post your show news here without the need of an account!
Featured Alternative Energy Product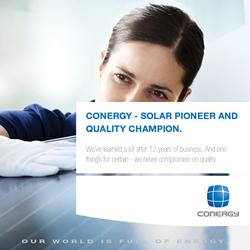 Conergy is a German-based solar company with subsidiaries all over the world – and what you would call a complete all-rounder. We have mastered every aspect of photovoltaics, becoming the player for complete solutions and services from a single source. For our customers and partners this means: more peace of mind, more output, more service. Since our foundation in 1998 we have advised more than 10,000 customers around the globe and provided more than 2 gigawatts of solar module capacity. We have learned a lot in the process – about sun, wind and weather on all five continents. And about the high standards required by our international customers. Today, we can offer any private customer, enterprise and investor all-round peace of mind, from small solar installations on residential buildings to medium-sized systems on commercial and industrial buildings and up to the biggest multi-megawatt free-field installations. And why can we do that? Because as a pioneer we helped to build the photovoltaics sector, making solar power available to people all over the world. As Conergy has developed we have accumulated an unrivalled wealth of experience, making us the leading provider of PV system components, services and turnkey solar solutions today. Whichever solar system you are planning, Conergy will not only provide you with a complete system solution, but can also offer single components, a variety of accessories and perfectly matched services. As usual, everything comes in outstanding Conergy quality. By partnering with Conergy you have access to a complete portfolio of premium products from the industry's leading manufacturers. You will have a dedicated account team, including account and sales representatives, technical and customer service experts and credit managers, all of whom are dedicated to the success of your business. In addition to the on-going support that your Conergy team offers, Conergy also provides commercial system financing programs designed to help you close more business.
Featured Alternative Energy Company

(Bend, OR, United States of America)
AE's solar energy business delivers highly reliable inverters, complementary Balance of System (BoS) products, and robust Operations and Maintenance (O&M) services that allow our customers to secure more solar projects and grow their business. AE Solar Energy enables utility scale, commercial, and residential solar project stakeholders to offer system owners a lower Levelized Cost of Energy (LCOE) and confidence their PV system will deliver on long-term production goals. With more than 30 years of leadership in delivering innovation energy solutions, combined with a legendary reputation for customer service, AE is a trusted partner to solar project developers, financiers and beneficiaries around the globe.
Upcoming Alternative Energy Events and Conferences