Alternative Energy Articles from the Current eMagazine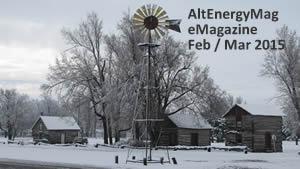 Solar Power International 2014 AltEnergyMag Tradeshow Report
10/20/14, Brandon Hetherington for, AltEnergyMag
AltEnergyMag.com has once again partnered with SPI 2014 to bring all the industry news and exciting new products to help our readers make sense of this key tradeshow. Here we have compiled a list of some product releases from this years show.
Special News Report for SPI 2014
10/20/14, Prepared by, AltEnergyMag
Here are press releases and announcements from SPI 2014. Exhibitors are welcome to post their news here too.
SPI 2014 - Interview with Mark Cerasuolo of Outback Power Technologies
10/20/14, Mark Cerasuolo, OutBack Power Technologies
For SPI in 2014, we will be introducing the all-new control capabilities of our OPTICS RE user application. Launched this spring, the OPTICS RE cloud-based user-interface application provides installers and owners of OutBack systems the ability to easily monitor PV/solar system operation, performance and output via an intuitive dashboard from any Internet-enabled device.
SPI 2014 - Interview with David Briggs of IronRidge
10/20/14, David Briggs, IronRidge
This year we are focusing our new XR Rail Family, which was first introduced in mid-July. It's a significant improvement to our Roof Mount product line, both in terms of cost and installation efficiency.
SPI 2014 - Interview with Rita Hazen of Joyce/Dayton Corp.
10/20/14, Rita Hazen, Joyce/Dayton Corp.
SPI does a good job of organizing the business areas of interest in a logical manner making it easier to focus on those areas that are important to our business.
Alternative Energy Stories of the Day
Battery Backup for Rooftop Solar Power Systems Too Costly
Submitted on: 10/24/14, 05:31 AM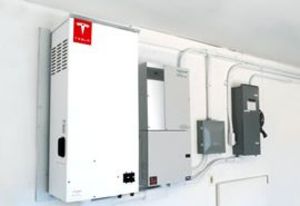 Using batteries to retain energy from rooftop solar systems will be too expensive for at least two years, according to industry executives.
That means homeowners who add solar panels to save money on utility bills will continue to lose electricity during blackouts, even after an 80 percent decline in battery costs over the past decade.
Residential solar systems typically send power to the grid, not directly to the house, and don't run the home during a blackout. For batteries to save consumers money, stored energy must be drained daily, said Jamie Evans, who runs the U.S. Eco Solutions unit for Panasonic Corp., which supplies lithium-ion cells for Tesla Motors Inc.
"Solar will need storage for grid stability," Evans said yesterday in an interview at the Solar Power International convention in Las Vegas. "Battery costs need to come down and regulatory structures have to change to really scale up."
As residential solar become more common from California to New York, utility grids will increasingly become stressed without storage to ease supply and demand imbalances, he said.
For now, that means battery storage only makes economic sense for large businesses that get hit with extra fees when their power usage exceeds utility expectations.
Solar Power International underway in Las Vegas.
Submitted on: 10/20/14, 05:48 AM
This years show takes place October 20 - 23, 2014 in Las Vegas, Nevada. Over 15,000 + visitors are expected in attendance to learn about the latest technology innovations, financing models, busi
Lockheed announces major breakthrough in nuclear fusion
Submitted on: 10/16/14, 10:07 AM
The largest military contractor in the United States is developing a nuclear fusion reactor that is small enough to fit on the back of a truck but has the ability to produce the energy required to power a warship. Lockheed Martin said in a statement released
SPI 2014: 600 exhibitors and 15,000 visitors expected
Submitted on: 10/15/14, 05:07 AM
With less than one week before the largest North America solar trade show, SPI, kicks off in Las Vegas, visitors are being advised to expect to spend their day on their feet. With the two South Halls of the Las Vegas Convention Center being consumed by the exhibition
SolarCity's CTO Peter Rive on Solar Power Plus Energy Storage
Submitted on: 10/13/14, 06:01 AM
SolarCity, the nation's largest residential solar installer and financier, is coupling Tesla's battery-based energy storage hardware with its rooftop solar systems. Peter Rive, the co-founder and CTO of SolarCity, sp
Today's Alternative Energy Headlines
POWER GENERATING LANDMARK SIGNIFIES 'NEW ERA FOR WIND ENERGY' SAYS RENEWABLES EXPERT
Submitted on: 10/24/14, 03:09 AM
The vital role that wind power can make in the race to solve Britain's growing 'Energy Trilemma' has been underlined by new figures revealing its growing importance to keeping the nation's lights on, says one of Britain's leading renewable energy experts.
Stion Announces Advancements to CIGS Solar Modules Made in the USA
Submitted on: 10/23/14, 07:41 PM
At Stion, we believe solar module production should be an environmentally friendly process.
SolarBridge National Installer Study Reveals Significant Cost Savings with Use of Microinverters and AC Modules
Submitted on: 10/23/14, 07:39 PM
The Next Frontier: Soft Cost Reduction Through Power Electronics
SPI Solar Announces Agreements With GD Solar to Acquire and Develop Multiple PV Projects
Submitted on: 10/23/14, 07:37 PM
SPI Solar Power Suzhou Co., Ltd., has entered into several agreements with GD Solar Co., Ltd.
sPower Breaks Ground on 7MWdc Solar Facility in Palmdale, CA
Submitted on: 10/23/14, 07:34 PM
Little Rock Solar Facility is first sPower project to use high-efficiency thin-film photovoltaic cell modules
Online Now - Solar Power International 2014 Special News Report
Publish Your Show News and see what the competition is up to.


Featured Alternative Energy Product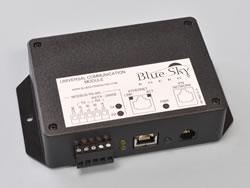 The new Universal Communication Module (UCM™) provides a full featured communication bridge or gateway between Blue Sky Energy's Integrated Power Net (IPN™) based charge controllers and external systems. Our newest product works with all IPN based Solar Boost charge controllers to allow for remote access via Modbus RS485, Modbus I/P and embedded Ethernet HTTP web site driver. Additional key benefits include periodic FTP data upload to a remote server, 128 days of data logging, and capability to access data and setup parameters world wide. Contact us at www.blueskyenergyinc.com or visit us at Solar Power Internaional. Booth Number: 1121
Featured Alternative Energy Company

(Walnut Creek, CA, United States of America)
The industry standard for 100% code-compliant, waterproof solar roof mounts. Quick Mount PV pioneered solar roofing best practices and provides training to designers, inspectors, distributors and installers. The Classic Composition and Shake Mounts are ICC-certified, and the QBase Comp, QBase Universal Tile, and QBase Low Slope Mounts feature the strongest roof attachment available. The highly adaptable Quick Hook® is the industry's first flashed tile hook mount. Made in the USA.
Upcoming Alternative Energy Events and Conferences