Alternative Energy Articles from the Current eMagazine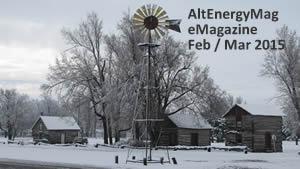 Solar Power International 2014 AltEnergyMag Tradeshow Report
10/20/14, Brandon Hetherington for, AltEnergyMag
AltEnergyMag.com has once again partnered with SPI 2014 to bring all the industry news and exciting new products to help our readers make sense of this key tradeshow. Here we have compiled a list of some product releases from this years show.
Special News Report for SPI 2014
10/20/14, Prepared by, AltEnergyMag
Here are press releases and announcements from SPI 2014. Exhibitors are welcome to post their news here too.
SPI 2014 - Interview with Mark Cerasuolo of Outback Power Technologies
10/20/14, Mark Cerasuolo, OutBack Power Technologies
For SPI in 2014, we will be introducing the all-new control capabilities of our OPTICS RE user application. Launched this spring, the OPTICS RE cloud-based user-interface application provides installers and owners of OutBack systems the ability to easily monitor PV/solar system operation, performance and output via an intuitive dashboard from any Internet-enabled device.
SPI 2014 - Interview with David Briggs of IronRidge
10/20/14, David Briggs, IronRidge
This year we are focusing our new XR Rail Family, which was first introduced in mid-July. It's a significant improvement to our Roof Mount product line, both in terms of cost and installation efficiency.
SPI 2014 - Interview with Rita Hazen of Joyce/Dayton Corp.
10/20/14, Rita Hazen, Joyce/Dayton Corp.
SPI does a good job of organizing the business areas of interest in a logical manner making it easier to focus on those areas that are important to our business.
Alternative Energy Stories of the Day
Battery Backup for Rooftop Solar Power Systems Too Costly
Submitted on: 10/24/14, 05:31 AM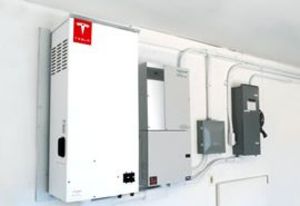 Using batteries to retain energy from rooftop solar systems will be too expensive for at least two years, according to industry executives.
That means homeowners who add solar panels to save money on utility bills will continue to lose electricity during blackouts, even after an 80 percent decline in battery costs over the past decade.
Residential solar systems typically send power to the grid, not directly to the house, and don't run the home during a blackout. For batteries to save consumers money, stored energy must be drained daily, said Jamie Evans, who runs the U.S. Eco Solutions unit for Panasonic Corp., which supplies lithium-ion cells for Tesla Motors Inc.
"Solar will need storage for grid stability," Evans said yesterday in an interview at the Solar Power International convention in Las Vegas. "Battery costs need to come down and regulatory structures have to change to really scale up."
As residential solar become more common from California to New York, utility grids will increasingly become stressed without storage to ease supply and demand imbalances, he said.
For now, that means battery storage only makes economic sense for large businesses that get hit with extra fees when their power usage exceeds utility expectations.
Solar Power International underway in Las Vegas.
Submitted on: 10/20/14, 05:48 AM
This years show takes place October 20 - 23, 2014 in Las Vegas, Nevada. Over 15,000 + visitors are expected in attendance to learn about the latest technology innovations, financing models, busi
Lockheed announces major breakthrough in nuclear fusion
Submitted on: 10/16/14, 10:07 AM
The largest military contractor in the United States is developing a nuclear fusion reactor that is small enough to fit on the back of a truck but has the ability to produce the energy required to power a warship. Lockheed Martin said in a statement released
SPI 2014: 600 exhibitors and 15,000 visitors expected
Submitted on: 10/15/14, 05:07 AM
With less than one week before the largest North America solar trade show, SPI, kicks off in Las Vegas, visitors are being advised to expect to spend their day on their feet. With the two South Halls of the Las Vegas Convention Center being consumed by the exhibition
SolarCity's CTO Peter Rive on Solar Power Plus Energy Storage
Submitted on: 10/13/14, 06:01 AM
SolarCity, the nation's largest residential solar installer and financier, is coupling Tesla's battery-based energy storage hardware with its rooftop solar systems. Peter Rive, the co-founder and CTO of SolarCity, sp
Today's Alternative Energy Headlines
Homemade Solar Stirling Plant
Submitted on: 10/25/14, 04:19 AM
Show you how to build a fully functioning electricity generator, utilizing the power of the sun.The price of the product is certainly much less expensive than having a solar panel built.PV solar panels can cost up to $30,000 and the Solar Stirling Plant can apparently be built for less than $100
WINAICO's WSP-M6 PERC module wins Taiwan Excellent PV Award for best PV module for safety, reliabili
Submitted on: 10/25/14, 04:16 AM
WINAICO's high efficiency mono crystalline WSP-M6 PERC module, with patented HeatCap technology, has exceeded Taiwan's Industrial Technology Research Institutes' evaluations to win the Taiwan Excellent PV award given by the Bureau of Energy, of Ministry of Economic Affairs
POWER GENERATING LANDMARK SIGNIFIES 'NEW ERA FOR WIND ENERGY' SAYS RENEWABLES EXPERT
Submitted on: 10/24/14, 03:09 AM
The vital role that wind power can make in the race to solve Britain's growing 'Energy Trilemma' has been underlined by new figures revealing its growing importance to keeping the nation's lights on, says one of Britain's leading renewable energy experts.
Stion Announces Advancements to CIGS Solar Modules Made in the USA
Submitted on: 10/23/14, 07:41 PM
At Stion, we believe solar module production should be an environmentally friendly process.
SolarBridge National Installer Study Reveals Significant Cost Savings with Use of Microinverters and AC Modules
Submitted on: 10/23/14, 07:39 PM
The Next Frontier: Soft Cost Reduction Through Power Electronics
Online Now - Solar Power International 2014 Special News Report
Publish Your Show News and see what the competition is up to.


Featured Alternative Energy Product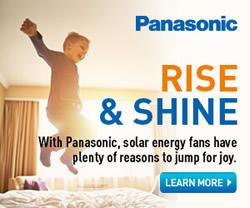 Going Solar – it's easier said than done. At Panasonic, we believe everyone should have access to clean, renewable energy. Joining forces with Coronal Group, we've developed simple, streamlined solar solutions to remove barriers that once impeded projects. Now we can bring more solar installations to fruition. From concept to design, financing to installation and beyond. Together, the Panasonic-Coronal team can help you go solar – efficiently and cost effectively.
Featured Alternative Energy Company

(Williston, VT, United States of America)
AllEarth Renewables is the designer and manufacturer of the AllSun Tracker, a complete grid-tied, dual-axis solar electric system that uses GPS technology to follow the sun, producing up to 45% more energy than fixed systems. With over 30 years of experience in the renewable energy industry, AllEarth Renewables has become the nation's leading solar tracker company with over 1,900 AllSun Tracker installations throughout the U.S.
Upcoming Alternative Energy Events and Conferences