Alternative Energy Articles from the Current eMagazine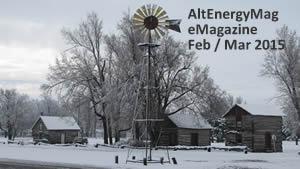 Value of Solar Versus Fossil Fuels - Part 2
09/02/14, A Report By, The Energy & Policy Institute
The value of solar power is being debated across the country by regulators, utility companies, and solar energy providers as distributed generation is increasing. This Energy and Policy Institute series consists of four separate reports summarizing recent developments, while providing recommendations for policy makers.
Energy Sources in a Disaster
09/02/14, Len Calderone for, AltEnergyMag
Businesses need to invest in back-up renewable power systems to insure that they can continue working during and after a disaster. With such installations, businesses can prevent interruption losses caused by grid failure.
Unlikely Bedfellows: Mines That Run On Solar Or Wind Power
09/02/14, Andrew Topf , OilPrice.com
As mining companies continue to evaluate their power options in an era of higher diesel fuel and electricity costs, it is interesting to contemplate whether they could one day foresee operating in an environment more weighted towards renewables than conventional energy.
White Lists: A Proactive Approach to Risk Reduction for the Bioenergy Industry
09/02/14, Dr. Doria Gordon, The Nature Conservancy
As more species and cultivars are proposed to help meet the substantial renewable energy needs of our nation, more risk assessments will be necessary to identify the truly green renewable alternatives to petroleum-based energy sources.
One With The Roof
09/02/14, Milton P. Nogueira Jr., Roof Tech, Inc.
Installers working on a tile roof must deal with particularly difficult challenges. Tile roofs are manufactured from many types of materials, including clay, zinc coated aluminum, concrete, wood and fiberglass, all of which come in a wide range of shapes and sizes. Installing solar panels on a tile roof takes more time than traditional asphalt shingle roofs and often requires additional framing.
Alternative Energy Stories of the Day
AES Betting On Lithium-Ion Batteries for Long-Duration Energy Storage
Submitted on: 09/02/14, 05:31 AM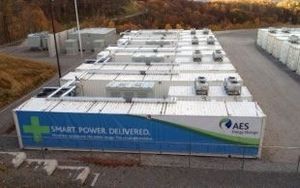 When it comes to storing energy at the scale of the power grid, lithium-ion batteries have a lot of advantages -- and, critics say, some significant drawbacks.
Sure, lithium-ion is the dominant battery chemistry for consumer electronics and electric vehicles, which helps drive down costs and improve bankability for grid projects (see Tesla's Giga factory for an example of how this future could unfold). And yes, they've been proven in many grid-tied projects around the world.
But there are two questions that continue to dog the potential for lithium-ion batteries at grid scale. Can they provide hours of energy at a time to serve grid needs, and can they last for the decade or more required for cost-effective grid use when they're being discharged so deeply, over and over, day after day? Cont'd...
A fully transparent solar cell that could make every window and screen a power source
Submitted on: 08/28/14, 02:50 PM
Researchers at Michigan State University have created a fully transparent solar concentrator, which could turn any window or sheet of glass (like your smartphone's screen) into a photovoltaic solar cell. Unlike other "transparent" solar cells that w
Politics Threatens World's Largest Solar Power Project
Submitted on: 08/26/14, 03:52 PM
An unpopular government's legacy has become a burden for the new one, which could potentially lead to the scrapping of what has been planned as the world's largest solar power project. The Rajasthan state government in
What You Need to Know Before You Invest in Solar Energy
Submitted on: 08/25/14, 07:07 AM
olar energy is one of the greatest investing opportunities of our generation with well over a trillion dollars in annual market potential around the world. But with all that potential comes tremendous risk, particularly as new technologies emerge. Over
Solar Power Poses Lower Risk to Birds Than Cats or Cars
Submitted on: 08/21/14, 02:18 PM
Solar-thermal power plants in the U.S. are less likely to kill birds than automobiles, cats or communication towers, despite reports that say the facilities pose a significant threat to avian life. There were 321 "avian fata
Today's Alternative Energy Headlines
Masdar Delivers Samoa's First Wind Farm
Submitted on: 09/02/14, 05:19 PM
Grant financing from UAE-Pacific Partnership Fund
BIGFOOT comes to Michigan: a Huge Truck for a Great Show
Submitted on: 09/02/14, 05:16 PM
BIGFOOT comes to Michigan
Michigan ranked 3rd in nation for clean energy jobs
Submitted on: 09/02/14, 05:14 PM

TÜV SÜD PMSS ON POINT FOR WESTERMEERWIND
Submitted on: 09/02/14, 05:11 PM
Multi year working partnership sees specialist renewable energy division deliver long-term benefits to largest nearshore Dutch wind energy project
WELTEC BIOPOWER receives order for 1.1 MW extension in Dorset Award-Winning AD plant processes food waste to energy
Submitted on: 09/02/14, 05:05 PM
Weltec Biopower (UK) Ltd, based in Stoneleigh, Warwickshire, has been granted the contract to extend the award-winning food waste AD plant in Piddlehinton, Dorset. Plant owners Eco Sustainable Solutions Ltd. are expanding with a further 1.1MW of food waste processing capacity. This follows on from the Weltec successes of commissioning two other plants in early 2014. With other construction projects underway, new staff recruited and a healthy order book 2014 looks set to be an excellent year for Weltec Biopower (UK) Ltd.
Featured Alternative Energy Product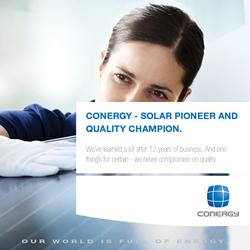 Conergy is a German-based solar company with subsidiaries all over the world – and what you would call a complete all-rounder. We have mastered every aspect of photovoltaics, becoming the player for complete solutions and services from a single source. For our customers and partners this means: more peace of mind, more output, more service. Since our foundation in 1998 we have advised more than 10,000 customers around the globe and provided more than 2 gigawatts of solar module capacity. We have learned a lot in the process – about sun, wind and weather on all five continents. And about the high standards required by our international customers. Today, we can offer any private customer, enterprise and investor all-round peace of mind, from small solar installations on residential buildings to medium-sized systems on commercial and industrial buildings and up to the biggest multi-megawatt free-field installations.
Featured Alternative Energy Company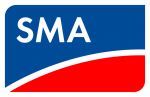 (Rocklin, Ca, United States of America)
SMA America and SMA Canada are the United States and Canadian subsidiaries of global solar leader SMA Solar Technology AG located in Germany. They supply North and Central America with the world's most advanced inverter and control products for renewable energy sources, primarily solar. As the world leader in solar inverter technology and manufacturing, SMA inverters provide more power from the sun than any other company.
Upcoming Alternative Energy Events and Conferences