Alternative Energy Articles from the Current eMagazine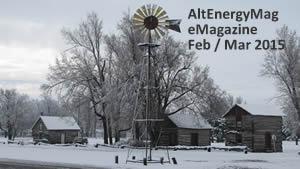 Clean Energy Won!
09/29/14, Jonathan Silver, twitter.com/JMSilver_energy
During the first Obama Administration, Mr. Silver led both the federal government's $50 billion clean energy investment fund and its $20 billion fund focused on electric vehicles.
PV with batteries: a threat to CSP?
09/29/14, Jason Deign for, CSP Today
Looking to 10 years from now, if energy storage achieves its full potential then the whole landscape for power generation and distribution could change drastically.
Safer Fuel Cell Powered Automobiles
09/29/14, David Schmidt, Neah Power Systems
While an electric vehicle may go 200 or 250 miles without a charge a combination of fuel cell and fuel together with a balance of system could travel 500 or even 800 miles depending upon the specific requirements and design.
Powering Towards Renewable Energy
09/29/14, Sarosh Bana, Business India
Corrective measures reinvigorate India's renewable energy sector
Is Biomass Heating Really Carbon Friendly?
09/29/14, Tom Morley, Greenpower Technology
For people who use coal or oil for heating, switching to biomass will certainly reduce carbon emissions as long as there is a program in place for sustainable management of the resource.
Alternative Energy Stories of the Day
Perovskite Offers Shot at Cheaper Solar Energy
Submitted on: 09/29/14, 05:21 AM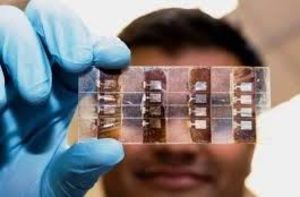 A class of compounds first uncovered in the Ural Mountains more than a century ago is now a rock star in the world of solar-energy research.
Meet perovskite, the building block for materials that, as a group, have posted unprecedented gains in their solar-energy efficiency—the percentage of sunlight converted into electricity. In the lab, scientists experimenting with perovskite-based materials of different compositions have recently achieved a jump in efficiency to 20%, from around 10% just two years ago.
That is still lower than the most efficient silicon-based cells on the market— SunPower Corp. makes cells that are 24% efficient.
But because of perovskite's rapid increases in efficiency, researchers think it could be used to make cells that are at least as efficient as those fashioned from silicon, but at a much lower cost.
SCE Unveils Largest Battery Energy Storage Project in North America
Submitted on: 09/26/14, 05:37 AM
For Southern California Edison (SCE), building a smarter grid started many years ago with smart meters and upgrades in distribution equipment. Today, the company takes another leap forward with the opening of the largest battery energy storage project in North America
US, California Release Roadmap for Solar Projects
Submitted on: 09/24/14, 05:22 AM
State and federal officials sought Tuesday to bring order to California's boom for renewable-energy plants in the Mojave and other southern California deserts, releasing a roadmap covering 22.5 million acres that designates some areas for large-scale solar, wind
Obama pushes energy efficiency, rural solar power
Submitted on: 09/22/14, 06:16 AM
The Obama administration unveiled a slew of actions Thursday aimed at improving energy efficiency and increasing the use of solar power in homes and businesses, including $68 million in spending. The White House said the actions would reduce carbo
Wind energy may help with grid stabilization
Submitted on: 09/19/14, 05:12 AM
A new study from the National Renewable Energy Laboratory suggests that wind energy could stabilize the energy grid of the eastern U.S. Grid stabilization is often an issue where renewable energy is concerned. At times, clean energy systems can generate more electrical
Today's Alternative Energy Headlines
World's Largest Private Investor in Clean Tech Companies Unveils Strategy to Build Green Cities
Submitted on: 09/29/14, 12:14 PM
Cheng Kin Ming building first-ever, vertically integrated clean energy supply chain
JA Solar Multi-Si Solar Cells Achieve 20% Conversion Efficiency
Submitted on: 09/29/14, 11:16 AM
"JA Solar set a new world record for multi-Si cell efficiency by breaking the 20% barrier."
Panasonic and Coronal Group Complete Nine Solar Projects to Provide Clean, Renewable Energy to Southern California Edison Customers
Submitted on: 09/29/14, 11:11 AM
16.2 megawatts of energy provided by nine solar projects in Tulare and Kings Counties in Central California demonstrate continued success of Panasonic - Coronal platform.
Japan's Largest Solar Power Project Funded with Market-Leading Investment by GE and Toyo Engineering, and $867 Million Debt Syndicate
Submitted on: 09/29/14, 11:10 AM
GE Energy Financial Services holds a 60 percent stake in the project, one of the largest single equity investments in renewable energy in Japan.
One of the Nation's Largest, Most Environmentally-Friendly Battery Energy Storage Systems to be Installed at UC San Diego
Submitted on: 09/29/14, 11:07 AM
Enough to power 2,500 homes
Online Now - Solar Power International 2014 Special News Report
Publish Your Show News and see what the competition is up to.


Featured Alternative Energy Product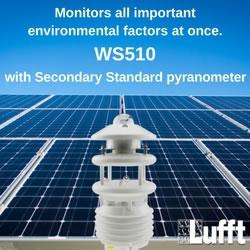 WS501 series Compact Weather Stations for measuring of air temperature, relative humidity, solar radiation, air pressure, wind direction and wind speed. Relative humidity is measured by means of a capacitive sensor element; a precision NTC measuring element is used to measure air temperature. The world renowned technology of Kipp+Zonen CMP3 is integrated. Ultrasonic sensor technology is used to take wind measurements. Measurement output can be accessed by the following protocolls: UMB-Binary, UMB-ASCII, SDI-12, MODBUS. One external temperature or rain sensor is connectable. The WS503 is a similar sensor available with a tiltable pyranometer for plane of array measurements of solar panels efficiency. Surface temperature and rainfall accessory sensors are also available as add on to the weather station.
Featured Alternative Energy Company

(Albuquerque, NM, United States of America)
Unirac leads the PV mounting market with industry-leading technology and a breadth of product solutions and services designed to meet the needs of any type of solar installation.
Upcoming Alternative Energy Events and Conferences