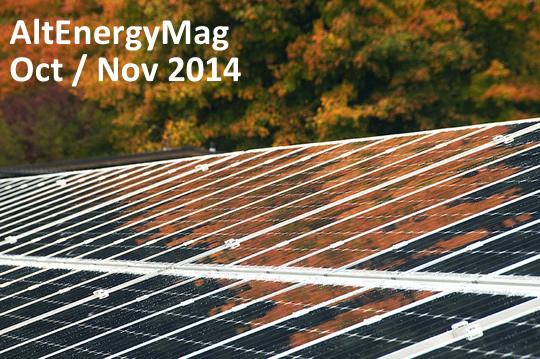 Featured Articles


Renewable Energy and Cross-Border Prospects

10/13/14, Peter K. Nance, ICF International
The current power trade between the United States and Mexico is relatively small, and the renewable sector in Mexico remains underdeveloped. Yet, encouraging market dynamics gives ample reason to pay attention to this area.

Fed Up With Federal Inaction, States Act Alone on Cap-and-Trade
10/13/14, Nick Cunningham , OilPrice.com
California has entered into a partnership with the Canadian province of Quebec to link up their carbon markets. It's a small step, but the two have already created the largest carbon market in North America.

Making solar power's future even brighter
10/13/14, Dan Liggett, geoAMPS
Companies have experienced 35 percent savings in their solar panel field project costs through greater efficiencies.

Generating profits with wind energy
10/13/14, Thomas Zirngibl, TÜV SÜD Industrie Service GmbH
The experts from TÜV SÜD underline how comprehensive due diligence can prevent investments from being 'gone with the wind'.

09/29/14, Jonathan Silver, twitter.com/JMSilver_energy
During the first Obama Administration, Mr. Silver led both the federal government's $50 billion clean energy investment fund and its $20 billion fund focused on electric vehicles.

PV with batteries: a threat to CSP?
09/29/14, Jason Deign for, CSP Today
Looking to 10 years from now, if energy storage achieves its full potential then the whole landscape for power generation and distribution could change drastically.

Powering Towards Renewable Energy
09/29/14, Sarosh Bana, Business India
Corrective measures reinvigorate India's renewable energy sector

Is Biomass Heating Really Carbon Friendly?
09/29/14, Tom Morley, Greenpower Technology
For people who use coal or oil for heating, switching to biomass will certainly reduce carbon emissions as long as there is a program in place for sustainable management of the resource.

Look, Ma… No Wires!
09/29/14, Rob Aldridge, TellCo Europe – USA
There are an estimated 43 million street lights in the USA and at least 55 million parking lot and parkway lights. Since they combine to use about 10% of all the electricity consumed in the USA, taking them to LED is a step in the right direction but going all the way to zero energy use is even better.

Solar Plant in Cernay Powers Up With DuPont Photovoltaic Solutions
09/29/14, Contributed by, Dupont
System optimized for maximum power output and lifetime with DuPont™ Tedlar® polyvinyl fluoride filmbased backsheets and DuPont™ Solamet® photovoltaic metallization pastes

Powerful approaches to energy conservation
09/29/14, Contributed by, Ontario's Ministry of Economic Development, Employment and Infrastructure
Innovative Ontario companies find energy savings in places they'd least expect

Rethinking Solar Farms for the 21st Century: Tapping Ocean Space

09/15/14, Lee Hsiu Eik, Research Engineer, Offshore Engineering Centre, PETRONAS Institute of Technology, Malaysia
An example is in a brave venture in India where a 10 kW prototype floating solar generation facility is being developed for placement in a pond. Pilot projects of this nature have also started to take shape in countries like Japan, France and Australia.

Geothermal resources used to produce renewable electricity in western states
09/15/14, Reprinted with permission from, Today in Energy
Geothermal plants are virtually emissions free, and unlike renewable sources such as wind and solar, they provide an available, dispatchable source of baseload power that is able to operate at a relatively high capacity factor.

Green growth: an operational tool (and GDP has had its day…)
09/15/14, Carlo Carraro, Director, International Center for Climate Governance
Natural capital, made up of several elements that nature provides us with as the sustenance and basis of our society (soil, raw materials, water, clean air, …) has an economic value: today any growth model that ignores this by now shared knowledge can no longer work.

Optimizing Solar Plant Implementation

09/15/14, Contributed by, Exosun
In this paper, we will focus on a theoretical study and its application to a concrete site. We will try to answer the question: How can we optimize the implementation of horizontal trackers on a solar plant?

Solar Powered Generators & Energy Efficiency, Go Hand In Hand
09/15/14, Aaron Wood, Solaaron
Energy Efficiency is all about optimal and responsible power use and this is also exactly how one gets the most energy out of their solar generator.

10 Questions to Ask Before Hiring a Solar Installer
09/15/14, Contributed by, EcoFasten Solar
Going solar should be a great experience - not a headache, and doing your homework upfront will give you something money can't buy - peace of mind.

Upcoming Tradeshow, Conference & Exhibition Summary
October, November, December 2014
09/15/14, Brandon Hetherington for, AltEnergyMag
This year Solar Power International has moved to October. SPI is perhaps the most important show for the solar industry here in North America. Stay tuned for the AltEnergyMag SPI 2014 special newspage devoted to news specifically from the show.

Why The Debate Over Energy Storage Utterly Misses The Point
09/15/14, Chris Dalby , OilPrice.com
The quest for "The Holy Grail of Energy Storage" is doomed to fail.

Value of Solar Versus Fossil Fuels - Part 2

09/02/14, A Report By, The Energy & Policy Institute
The value of solar power is being debated across the country by regulators, utility companies, and solar energy providers as distributed generation is increasing. This Energy and Policy Institute series consists of four separate reports summarizing recent developments, while providing recommendations for policy makers.

09/02/14, Len Calderone for, AltEnergyMag
Businesses need to invest in back-up renewable power systems to insure that they can continue working during and after a disaster. With such installations, businesses can prevent interruption losses caused by grid failure.

Unlikely Bedfellows: Mines That Run On Solar Or Wind Power

09/02/14, Andrew Topf , OilPrice.com
As mining companies continue to evaluate their power options in an era of higher diesel fuel and electricity costs, it is interesting to contemplate whether they could one day foresee operating in an environment more weighted towards renewables than conventional energy.


Solar Power International 2014

Solar Power International 2014 AltEnergyMag Tradeshow Report

10/20/14, Brandon Hetherington for, AltEnergyMag
AltEnergyMag.com has once again partnered with SPI 2014 to bring all the industry news and exciting new products to help our readers make sense of this key tradeshow. Here we have compiled a list of some product releases from this years show.

Special News Report for SPI 2014
10/20/14, Prepared by, AltEnergyMag
Here are press releases and announcements from SPI 2014. Exhibitors are welcome to post their news here too.

SPI 2014 - Interview with Mark Cerasuolo of Outback Power Technologies
10/20/14, Mark Cerasuolo, OutBack Power Technologies
For SPI in 2014, we will be introducing the all-new control capabilities of our OPTICS RE user application. Launched this spring, the OPTICS RE cloud-based user-interface application provides installers and owners of OutBack systems the ability to easily monitor PV/solar system operation, performance and output via an intuitive dashboard from any Internet-enabled device.

SPI 2014 - Interview with David Briggs of IronRidge
10/20/14, David Briggs, IronRidge
This year we are focusing our new XR Rail Family, which was first introduced in mid-July. It's a significant improvement to our Roof Mount product line, both in terms of cost and installation efficiency.

SPI 2014 - Interview with Rita Hazen of Joyce/Dayton Corp.
10/20/14, Rita Hazen, Joyce/Dayton Corp.
SPI does a good job of organizing the business areas of interest in a logical manner making it easier to focus on those areas that are important to our business.

Interviews

Safer Fuel Cell Powered Automobiles

09/29/14, David Schmidt, Neah Power Systems


While an electric vehicle may go 200 or 250 miles without a charge a combination of fuel cell and fuel together with a balance of system could travel 500 or even 800 miles depending upon the specific requirements and design.

09/15/14, Michael Teague, Secretary of Energy and Environment, State of Oklahoma


Oklahoma's pro-business climate and excellent wind resource have helped to attract wind developers from across the country and the globe.

Combining the Advantages of Module-level Power Electronics and String Inverter Topology

08/18/14, Thomas Enzendorfer, Solar Energy Division Fronius USA
This product innovation provides benefits of module-level monitoring while avoiding all the complication, costs and disadvantages of existing module-level products.

More Articles

White Lists: A Proactive Approach to Risk Reduction for the Bioenergy Industry

09/02/14, Dr. Doria Gordon, The Nature Conservancy
As more species and cultivars are proposed to help meet the substantial renewable energy needs of our nation, more risk assessments will be necessary to identify the truly green renewable alternatives to petroleum-based energy sources.

One With The Roof
09/02/14, Milton P. Nogueira Jr., Roof Tech, Inc.
Installers working on a tile roof must deal with particularly difficult challenges. Tile roofs are manufactured from many types of materials, including clay, zinc coated aluminum, concrete, wood and fiberglass, all of which come in a wide range of shapes and sizes. Installing solar panels on a tile roof takes more time than traditional asphalt shingle roofs and often requires additional framing.

6 Reasons Why Energy Efficiency Programs Fail
09/02/14, Conor MacGuire, Green Energy Scotland Limited
Amongst the numerous measures the world has taken to wean itself off the fossil fuels, only a few have been successful in making the businesses, homes and vehicles more energy efficient. Various psychological and financial barriers have kept governments and organizations from realizing the actual potential of energy efficiency programs.

Tilapia Village: Net Zero Ranch Style Pocket Village Community
09/02/14, Don Harmon, Tilapia Village
A sustainable small pocket neighborhood development alternative to the traditional subdivision housing model and even to the standard condo / townhouse model.

Value of Solar Versus Fossil Fuels - Part 1

08/18/14, A Report By, The Energy & Policy Institute
The value of solar power is being debated across the country by regulators, utility companies, and solar energy providers as distributed generation is increasing. This Energy and Policy Institute series consists of four separate reports summarizing recent developments, while providing recommendations for policy makers.

Q2 2014 Solar Energy Deal Volume Comparison

08/18/14, Contributed by, Lincoln International
Lincoln International is pleased to present you with the latest DealReader from our global Renewable Energy Industry group.

Top 20 high-cost oil projects risk wasting $91 bln of investor cash

08/18/14, Contributed by, Carbon Tracker Initiative
The study aims to alert institutional investors to the risks of investing in projects which depend on sustained high prices to make a return, and that are as a result exposed to a future double hit of falling oil prices and growing climate regulation in an increasingly carbon-constrained world.

Ways to Build Skills Among Renewable Industries' Workforce

08/18/14, Dan Liggett, geoAMPS
For renewable energy industries, it is important that project knowledge, industry awareness and organizational savvy be captured within the organization so it can be easily shared with incoming employees.

Crescent Dunes - Bottling the Sun

08/18/14, Contributed by, SolarReserve
These videos feature the stories of those who are working to construct the plant, the perspective of the residents of Tonopah (where the project is located), as well as an explanation of the technology of this revolutionary solar plant.

Upcoming Tradeshow, Conference & Exhibition Summary - September, October, November 2014

08/18/14, Brandon Hetherington for, AltEnergyMag
This year Solar Power International has moved to October. SPI is perhaps the most important show for the solar industry here in North America.

Converting Waste to Energy - The Big Cover-Up

08/18/14, Contributed by, Geomembrane Technologies Inc. (GTI)
Since biogas can be used as fuel to generate electricity, the city wanted a means to reliably collect biogas from the BVF® reactor to recover the energy while also controlling odors and reducing greenhouse gas emissions.

Latest Studies Open New Doors in Solar Power Utilization

08/18/14, Mike Lopez, MorGreen.org
With constant innovations hitting the frontiers of solar power research, two recent studies provide a glimpse of new opportunities in way we are harnessing this source of energy.

---

About AltEnergyMag

AltenergyMag is a community website where those of you who work in the Alternative Energy Industry are invited to contribute articles, news and product information for your peers to read and discover. Our philosophy is to create an outlet where the industry can report on itself.

Please take a moment to look around the site and give us some feedback. Then "Get Listed" by submitting your Company, uploading a news story or contributing an article for this eMagazine.
Comments (0)
This article does not have any comments. Be the first to leave a comment below.
Post A Comment
You must be logged in before you can post a comment. Login now.