Hot Stories
Cogenra Solar and Kendall-Jackson Winery Unveil Nation's Largest Rooftop Solar Cogeneration Array
Submitted on 04/10/12, 12:11 PM | Click Here for the full article: Cogenra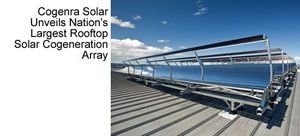 Cogenra Solar, a provider of distributed solar cogeneration systems, today announced the nation's largest rooftop solar cogeneration system to date at Kendall-Jackson's Kittyhawk winery in Windsor, California. Expanding on Kendall-Jackson's existing energy and water conservation projects, the 96-module, 241kW hybrid solar photovoltaic (PV) and thermal array is expected to save approximately $30,000 in annual energy costs.

"Our founder Jess Jackson was a trailblazer who made sustainability a core part of Kendall- Jackson's DNA largely through innovation"

U.S. Congressman Mike Thompson and local business leaders convened today at Kendall-Jackson's Wine Center to celebrate the company's commitment to sustainability and unveil the solar cogeneration system, now supplying solar hot water and electricity to power the winery's extensive tank and bottle washing operations.

Comments (0)
This story does not have any comments. Be the first to leave a comment below.
Post A Comment
You must be logged in before you can post a comment. Login now.
Featured Hot Product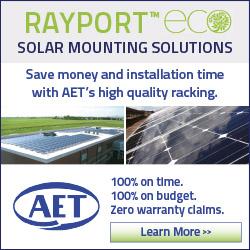 AET's solar mounting ECO series includes all the features their customer's love about their racking solutions in a cost competitive package. • Industry-leading installation time • 2-high portrait design optimized for maximum panels per post based on wind and snow conditions • Designed for cost-driven projects • HIGH shipping density, DRAMATICALLY lowers freight bills • Fits all panels available today • Single point connection to system ground • Full layout and loading analysis for every project • Galvanized for corrosion resistance • Lightweight for easy handling on the job site. Contact AET sales at 586.466.5073 or info@AETenergy.com for more information.