Hot Stories
WorldWide Solar Cell Production Growth Flattens but still Gigantic in 2011
Submitted on 03/26/12, 01:14 PM | Click Here for the full article: PHOTON International

Global PV cell production grew to an impressive 37.2 GW in 2011, according to a market survey by PHOTON International - The Solar Power Magazine, for a 36-percent increase over the 27.4 GW produced in 2010.

But the annual survey also reveals a dramatic reduction in year-on-year growth. Compared to a record 120-percent jump in 2010, the 2011 cell output was the PV industry's lowest growth rate since a 34-percent increase in 2003. The survey also shows a continuation of Asian dominance, with six Chinese manufacturers in the top 10 - with Suntech Power in first place for the second year in a row - and two from Taiwan. For the first time since PHOTON International began surveying solar cell producers, the top 10 did not include any solar cell producers from Europe or Japan.

"The days of solar cell production in western countries are numbered," says Michael Schmela, editor-in-chief of PHOTON International. "Like other commodities, solar cell production will continue its rapid shift to low-labor-cost countries in Asia, especially China." In 2008, only 33 percent of solar cells were made in China, a share that grew to an impressive over 57 percent in 2011.

Comments (0)
This story does not have any comments. Be the first to leave a comment below.
Post A Comment
You must be logged in before you can post a comment. Login now.
Featured Hot Product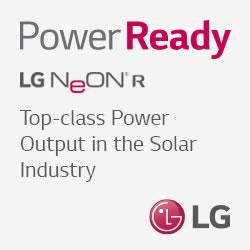 With state-of-the-art technology developed by LG Electronics and LG Chem, we are ready to make the world a more solar enriched environment. Through a strong commitment to our principals the LG brand that has earned great respect and popularity around the world. Our relentless pursuit of quality assurance in making superior products is unparalleled. Our ultimate goal is to help the world experience the array of benefits from using Solar power. To realize this goal, we've tapped the resources of our best scientists, engineers, designers and manufacturing experts to bring products to market that truly stand apart. Price, performance, reliability and quality … everything in our line-up of solar modules is tried and tested like no other. LG applies rigid standards to material procurement, solely targeting products that have undergone previous technical analysis, laboratory tests, and field tests. World-renowned partners supply all of the materials for LG Electronic modules. Our new Mono X NeON module is lightweight, easy to install and the proof that LG Solar is on the cutting edge of the industry.