Hot Stories
Lux Research Reveals 2011 Top 10 Module Manufacturers
Submitted on 03/16/12, 07:24 AM | Click Here for the full article: LUX Research

First Solar and Suntech led in module manufacturing in 2011 with both having around 2 GW of module production, according to Lux Research's latest Solar Supply Tracker. Crystalline silicon module prices continue to be at a record low with Tier 1 manufacturers selling around $0.9/W while Tier 2 and Tier 3 manufacturers sold at even lower rates to burn through their inventories and survive the current market conditions.
The top 10 companies added up to 12.5 GW of module production, a significant share at 44% of the 2011 total global module production.
Top 10 2011 Module Manufacturers (In Order)
First Solar - 7% - 2,001 MW
Suntech Power - 6.5% -1866 MW
Yingli Green Energy - 5.5% - 1,554 MW
Trina Solar - 4.9% - 1,395 MW
Canadian Solar - 4.8% - 1,363 MW
Sharp - 4.1% - 1,155 MW
Hanwha Solar One - 2.9% - 825 MW
Jinko - 2.8% - 782 MW
LDK Solar - 2.7% - 774 MW
SolarWorld - 2.7% - 767 MW
Comments (0)
This story does not have any comments. Be the first to leave a comment below.
Post A Comment
You must be logged in before you can post a comment. Login now.
Featured Hot Product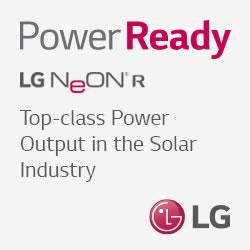 With state-of-the-art technology developed by LG Electronics and LG Chem, we are ready to make the world a more solar enriched environment. Through a strong commitment to our principals the LG brand that has earned great respect and popularity around the world. Our relentless pursuit of quality assurance in making superior products is unparalleled. Our ultimate goal is to help the world experience the array of benefits from using Solar power. To realize this goal, we've tapped the resources of our best scientists, engineers, designers and manufacturing experts to bring products to market that truly stand apart. Price, performance, reliability and quality … everything in our line-up of solar modules is tried and tested like no other. LG applies rigid standards to material procurement, solely targeting products that have undergone previous technical analysis, laboratory tests, and field tests. World-renowned partners supply all of the materials for LG Electronic modules. Our new Mono X NeON module is lightweight, easy to install and the proof that LG Solar is on the cutting edge of the industry.