Hot Stories
Siemens Blindsided by China Wind Boom Plans 'Massive' Investment
Submitted on 02/23/12, 12:38 PM | Click Here for the full article: Bloomberg

Siemens AG (SIE), the world's largest maker of offshore wind turbines, said it underestimated the pace of growth in the Chinese wind market and will ramp up spending to catch up as local competitors increase their lead.
"We're investing massively in research and development and to make use of economies of scale in production," Felix Ferlemann, head of Siemens's wind-power business, said in response to e-mailed questions. "We were somewhat taken by surprise by the strong growth of the Chinese market."
China led the world in installing wind-power capacity last year. Munich-based Siemens is working to keep pace in the country, where it's lagging behind suppliers such as Vestas Wind Systems A/S (VWS), while competition puts pressure on prices. Profitability at Siemens's renewable-energy unit was wiped out last year, calling into question Chief Executive Officer Peter Loescher's strategy of focusing more on green technologies.
Comments (0)
This story does not have any comments. Be the first to leave a comment below.
Post A Comment
You must be logged in before you can post a comment. Login now.
Featured Hot Product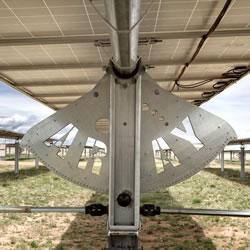 A perfect blend of industry leading technology and cost-saving elements, ATI's DuraRack fixed-tilt mounting system has proven itself as the premiere fixed-tilt system of the future. You will find many of the same patented features that make our DuraTrack™ HZ single-axis solar tracker the most widely deployed tracker in the world. Several of DuraRack's leading product features include the lowest number of posts per module, an all-bolted coupler solution that eliminates the need for field welding, customizable tilt angles between 10° and 40°, the industries' fastest install rates, and is available in portrait or landscape module configurations. With more than 53 MW installed at five different sites in just under six months, DuraRack is ramping up to become a leading solution for fixed-tilt ground mount sites across the solar industry.