Hot Stories
Google Invests $280 Million in SolarCity Project Finance Fund
Submitted on 06/14/11, 04:22 PM | Click Here for the full article: Bloomberg

Google Inc. (GOOG) agreed to put $280 million in a new project financing fund for SolarCity Inc., a financier, installer and owner of rooftop photovoltaic systems, in the Internet search engine's biggest clean-energy investment. The deal with San Mateo, California-based SolarCity is also Google's first investment related to distributed solar energy, Rick Needham, the search engine's director of green business operations, said by telephone yesterday. The investment is a "quadruple-win" because it will enable more homeowners to lower their energy bills while also shifting to renewable energy, allow SolarCity to expand its business and facilitate wider deployment of solar, Needham said. Mountain View, California-based Google will also make a return on capital upfront, he said, since its investment is supported by the Treasury Department's cash grants program. As an alternative to tax credits, the program reimburses investors for 30 percent of project expenditures for solar. The program was created after the 2008 financial crisis to revive spending on clean energy. Projects must begin construction by the end of 2011 to be eligible.
Comments (0)
This story does not have any comments. Be the first to leave a comment below.
Post A Comment
You must be logged in before you can post a comment. Login now.
Featured Hot Product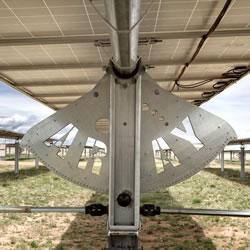 With more than 2 gigawatts shipped around the world and 25 years of experience, Array Technologies, Inc. (ATI) ensures value, reliability, and bankability for your solar project through its proven ground mount tracking and racking solutions. ATI's leading products, DuraTrack HZ single-axis horizontal solar tracker and DuraRack fixed-tilt rack, combine a minimization of materials with rugged reliability to promote rapid installation times and project longevity. From the frozen tundra of Alaska to the deserts of Chile, ATI provides high quality solar tracking and racking solutions for every location and environment. ATI's industry-leading engineering and project management is included with each utility-scale and commercial project to provide a fully-supported and customized solution for your project. For more information on our products and services, please stop by Intersolar North America booth 9725.