Hot Stories
Google Invests $280 Million in SolarCity Project Finance Fund
Submitted on 06/14/11, 04:22 PM | Click Here for the full article: Bloomberg

Google Inc. (GOOG) agreed to put $280 million in a new project financing fund for SolarCity Inc., a financier, installer and owner of rooftop photovoltaic systems, in the Internet search engine's biggest clean-energy investment. The deal with San Mateo, California-based SolarCity is also Google's first investment related to distributed solar energy, Rick Needham, the search engine's director of green business operations, said by telephone yesterday. The investment is a "quadruple-win" because it will enable more homeowners to lower their energy bills while also shifting to renewable energy, allow SolarCity to expand its business and facilitate wider deployment of solar, Needham said. Mountain View, California-based Google will also make a return on capital upfront, he said, since its investment is supported by the Treasury Department's cash grants program. As an alternative to tax credits, the program reimburses investors for 30 percent of project expenditures for solar. The program was created after the 2008 financial crisis to revive spending on clean energy. Projects must begin construction by the end of 2011 to be eligible.
Comments (0)
This story does not have any comments. Be the first to leave a comment below.
Post A Comment
You must be logged in before you can post a comment. Login now.
Featured Hot Product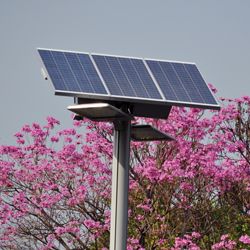 20/20™ is Sol's latest state-of-the-art LED lighting system designed for large spaces such as parking lots and perimeter security areas. It delivers superior light performance in an architectural package that increases pole spacing, lighting uniformity and simplifies installation. The 20/20's unified design incorporates a low profile LED luminaire, light engine, PV assembly and pole, powder coated your color choice. Designed from the ground up, it exceeds the demands of modern commercial outdoor solar lights to maximize your return on investment. The 20/20™ luminaire features IDA Dark Sky approved optics available in your choice of Type II, III or V.