Alternative Energy Hot Products - Energy Storage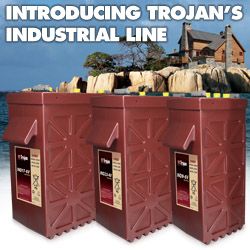 Trojan's Industrial Line of deep-cycle batteries is the newest addition to Trojan's lineage of high-quality flooded batteries for renewable energy and backup power applications. Designed to support large daily loads where the batteries are cycled regularly, Trojan's Industrial Line batteries are ideal solutions for a wide range of photovoltaic (PV) systems including large off-grid PV systems, off-grid hybrid PV systems, grid-tied PV systems with battery backup, smart grid peak shifting systems and a variety of other applications. Tested to meet both IEC and BCI standards, the Industrial Line features advanced battery technologies that deliver reliable power and is housed in a dual container construction for enhanced battery protection. Engineered for high-energy requirements, the Industrial line delivers 1,500 cycles at 80 percent depth-of-discharge and features advanced battery technologies that provide high performance.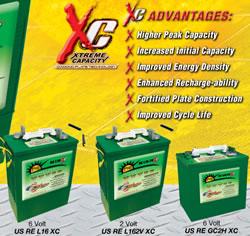 Our batteries have Xtreme thick plates with (XC Diamond Plate Technology) added to them. They have been designed for hours of heavy discharge each day, followed by a fast recharge during the daylight hours. Very few batteries can take the grueling deep discharge-recharge cycle every day for long periods of time. U.S. Battery has proven time and time again that our solar battery line can stand up to this type of battery torture day in and day out for years to come. When you demand reliable energy storage count on U.S. Battery every time!
Maxwell Technologies' 16V small cell ultracapacitor module provides energy storage and power delivery in a compact, cost effective module. The modules are specifically engineered to provide cost-effective solutions for 1.5MW and smaller wind turbine pitch control, small UPS systems, telecommunications and other lighter duty industrial electronics applications. The 16V module is based upon the high reliability, 350F radial D-Cell®. In addition to meeting or exceeding demanding industrial application requirements for both watt-hours of energy storage and watts of power delivery per kilogram, all of these products will perform reliably for more than five hundred-thousand discharge-recharge cycles.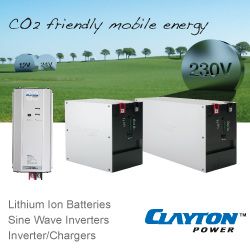 Get an efficient power supply system based on lithium technology and receive 12V/24V and 230V/50Hz simultaneously.

The Clayton Power lithium battery system can be charged from the mains via a G3 Combi - inverter/charger, an alternator while driving or from other power sources.

Our lithium ion batteries can be connected in parallel to achieve scalable power capacity and output. Connect more inverters or inverter/chargers to get a greater 230V output and even faster charging times.

Combined Inverter/Chargers
The G3 Combi - Inverter/Charger series, is a combined 230V power supply and intelligent multi charger in one compact unit.

Lithium Ion Batteries
Built-in Battery Management System. 12V and 24V - 100Ah. Scalable up to 2000Ah.

+ Powerful + Low weight + Long lifetime + Fast charging


Clayton Power | Lithium Battery Systems for Mobile, Off-Grid and Storage Solutions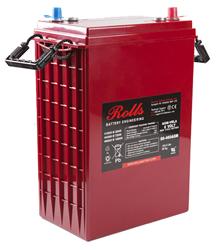 At Rolls, we've built a reputation for building one mean battery. It's a reputation based on reliability, durability and easy maintenance. Our dual container construction and high-density polyethylene material maximizes durability and eliminates acid leaks even if the outer container ruptures. The unique "resistox" plate design offers more resistance to corrosion and maximizes the life of the battery. The life expectancy of Rolls batteries are amongst the longest in the industry. Try our online Battery Selector to help you find the solution you need.