Low-cost and high performance heliostats
07/12/10
Heliostats are the component with the greatest impact on the cost in solar tower CSP installations, assuming 50% of the total investment. In the last years, there have been serious attempts to reduce cost by relaxing some features. The TITAN TRACKER concept achieves the goal of reducing cost offering higher performance than the rest of heliostats.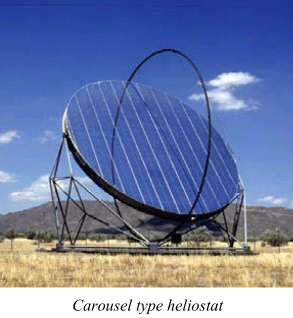 The US Solar PV Backsheet Market - Industry Trends and Opportunity Analysis to 2015
07/12/10
The "The US Solar PV Backsheet Market - Industry Trends and Opportunity Analysis to 2015" report provides market analysis and volume forecasts up to 2015 in the US. The report contains detailed analysis of PV backsheets installed, pricing, market revenues, share of imports and exports, backsheet demand based on domestic module production, lead time analysis and key product analysis.
Case Study: San Francisco MTA Transit Shelter
07/12/10
The Challenge: Reinvent the traditional transit shelter to take advantage of solar power. The Solution: Create a next-generation transit shelter that is both environmentally innovative and aesthetically pleasing.

Alternative Energy Leqal Q & A
06/16/10
AltEnergyMag has joined forces with Cleantech Law Partners (CLP) to help our readers navigate the sometime dizzying legal and policy issues that are changing every day. CLP is a a boutique law firm that focuses on exactly these kinds of issues and works with clients everyday to help make clean energy projects a reality across the country.
Harnessing the Power of the Ocean: A Program Still in its Infancy
06/22/10
Energy can be retrieved from the oceans in five basic ways: Tides, waves, tidal or marine currents, temperature gradients, and salinity gradients. Of these, wave energy is the most significant resource, according to ABS Energy Research, followed by power from salinity and thermal gradients.
Publish Your Story at AltEnergyMag
We're changing the way we distribute stories in order to spread the word faster. From now on we'll publish new articles every week or so. The process is very simple. Just email the article (news@altenergymag.com) along with any diagrams, photos etc. that you wish to have included. Length is not restricted. We do all the formatting and title graphics etc. and then let you preview the finished product before it goes live.  Biographies and company links can also be included.

Please bear in mind that we seek educational articles focusing on the technologies and benefits to readers rather than simple product cut sheets and promotional material.
As soon as you send the article we will get it ready and send you a link to preview before it goes live. It will go online (on the home page) as soon as we receive approval and stay in our library forever. It will still be included in our bimonthly eMagazine which is a compilation of recent articles and may be featured in this newsletter.