Alternative Energy Newsletter - September 2011
>>> Articles - New Features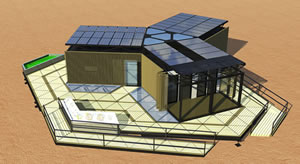 The Solar Decathlon 2011 - Part 3
09/06/11- Bob Hetherington - AltEnergyMag
Here are 5 more entries in this years Solar Decathlon for your interest and enjoyment.
For How Long will Germany Remain the World's Largest PV Market?
09/06/11- Solar Plaza
The Italian market is growing faster than ever before. In the first half of 2011, the market volume was almost three times that of Germany. Italy is on its way to becoming the world's number one market in 2011.
Alternative Energy Risk Analysis
09/06/11 - Craig Husa - 3TIER
Anyone with a financial interest in renewable energy has exposure to weather and climate-related risk. Understanding, quantifying and managing that risk is absolutely essential to the successful development and operation of renewable energy projects
Wind Farm Development: Efficiently Capturing Governmental Incentives in Project Contracts
08/26/11 - Joanna Horsnail and Nate Galer - Mayer Brown LLP
Developing a wind farm is a complex process requiring the integration of a number of third parties such as engineers, contractors, and turbine suppliers/erectors. Fully capturing available federal, state, and local incentives will require communication, cooperation and some flexibility. Owners and developers should not rely on ad hoc solutions after bids are placed and contracts are signed, because that will increase transaction costs and the risk that certain incentives will be permanently lost.
The Battle for Energy
08/26/11 - Florian Ion Petrescu , Relly Victoria Petrescu - Bucharest Polytechnic University
The share of renewables in electricity generation is around 18%, with 15% of global electricity coming from hydroelectricity and 3% from new renewables. This paper aims to disseminate new methods of obtaining energy.
---

REC is a leading vertically integrated player in the solar energy industry. Ranked among the world's largest producers of polysilicon and wafers for solar applications, and a rapidly growing manufacturer of solar cells and modules.
www.recgroup.com/
>>> News Headlines
NRG Systems Introduces Complete Solar Resource Assessment System
NRG Systems, leading manufacturer of wind measurement equipment for the global wind industry, has brought its product leadership and technical expertise to the solar industry with the introduction of a complete solar resource assessment system.
Smarter and Energy-efficient Buildings Create $2-billion European Building Automation Systems Market
Energy management and lighting solutions are likely to lead the industry, while heating, ventilation and air conditioning systems will continue to play an important role
Incentives, imports and storage – the implications for CPV
Following the webinar 'What is the next step for CPV commercialization in the US', PV Insider got the thoughts of Lewis Fraas and Andy Skumanich on topics such as energy storage, cheap imports and the role of incentives.
Varian Solion Ion Implant Gains Strong PV Market Traction Worldwide
In just over one year since its formal launch, Solion ion implant technology from Varian Semiconductor Equipment Associates Inc. ("Varian") (NASDAQ: VSEA) is being adopted in high volume manufacturing by PV cell manufacturers worldwide.
Quality Standard of the Network DERlab for Outdoor Tests Allows Reliable Benchmarking of PV modules
At a workshop of the conference of the International Solar Energy Society in Kassel, Germany, leading research institutes from Europe and the USA adopted a new draft for an outdoor test standard for photovoltaic modules yesterday.
Corvus Energy's AT6500 Module is the New Standard in Battery Power and Safety
Corvus Energy's 6.5 kWh batteries are the world's most powerful and safest lithium-polymer batteries
---

Trojan Battery Company is the world's leading manufacturer of deep cycle batteries. We offer advanced flooded, AGM and gel batteries that provide rugged durability and maximum, long lasting performance to meet the requirements of today's advancing renewable energy and back up power systems.
>>> Hot Story

A new report shows that the U.S. is central to the global solar supply chain. In 2010, U.S. solar firms achieved a positive trade flow of $1.9 billion globally according to SEIA® and GTM Research's U.S. Solar Energy Trade Assessment 2011. Photovoltaic (PV) components accounted for more than 99 percent of the year's exports, with solar heating and cooling (SHC) claiming the remainder of the positive balance. For the U.S. PV manufacturing industry, 2010 was a record year. Exports totaled more than $5.6 billion, with PV polysilicon feedstock and capital equipment leading all components at $2.5 billion and $1.4 billion respectively. The leading destinations for U.S.-sourced PV components were China and Germany. Meanwhile, U.S. imports of PV products totaled $3.7 billion, the majority of which ($2.4 billion) came from procurement of modules assembled overseas. China and Mexico were the top two sources of PV goods headed to the U.S. in 2010. Furthermore, the U.S. was a net exporter of solar products to China last year by more than $240 million. The U.S. primarily sold capital equipment and PV polysilicon to China, while China primarily sold PV modules to the U.S.
---

Rolls has been producing premium batteries specifically designed for the renewable energy market since 1984.  That's why those who can't afford to go without power know they can't afford to trust anyone else.
www.rollsbattery.com
>>> Hot Product
At Rolls, we've built a reputation for building one mean battery. It's a reputation based on reliability, durability and easy maintenance. Our dual container construction and high-density polyethylene material maximizes durability and eliminates acid leaks even if the outer container ruptures. The unique "resistox" plate design offers more resistance to corrosion and maximizes the life of the battery. The life expectancy of Rolls batteries are amongst the longest in the industry. Try our online Battery Selector to help you find the solution you need.
---

CanWEA's 2011 Conference and Exhibition will be held Oct. 3-6, 2011 in
Vancouver, British Columbia. Join over 3,000 business leaders
at Canada's largest renewable energy event.
www.canwea2011.ca
>>> The Next Big Thing?
The Robotics industry is booming.
Join us as we launch into a new adventure. RoboticsTomorrow is a community website where those of you who work or are interested in the Robotics Industry are invited to contribute articles, news and product information for your peers to read and discover. Just like AltEnergyMag, our philosophy is to create an outlet where the industry can report on itself.
You'll find the same familiar features that you expect from us including:
Robotics eMagazine with articles focused on the industry, contributed by experts from around the globe
News page for recent Press Releases
Hot stories reported from around the industry
Find or promote Robotics Companies, Products and Events
If you are interested in contributing an article, interview or case study for publication please email us at info@roboticstomorrow.com.
Read More - RoboticsTomorrow
>>> Upcoming Sponsored Events
| Date | Event Name | Location |
| --- | --- | --- |
| Sept 15 - 17 | AWEA SMALL & COMMUNITY WINDPOWER CONFERENCE & EXHIBITION 2011 | Des Moines, IA |
| Sept 20 - 22 | RETECH 2011 | Washington, D.C. |
| Sept 26 - 28 | IQPC 5TH ENERGY STORAGE SUMMIT | Houston, TX |
| Sept 26 - 27 | REFF - WEST | San Francisco, CA |
| Oct 03 - 06 | CANWEA'S 27TH ANNUAL CONFERENCE AND EXHIBITION | Vancouver, BC |
| Oct 06 - 07 | THE SOLAR FUTURE: ITALY | Milan, Italy |
| Oct 11 - 13 | AWEA OFFSHORE WINDPOWER CONFERENCE & EXHIBITION 2011 | Baltimore, MD |
| Oct 17 - 20 | SOLAR POWER INTERNATIONAL 2011 | Dallas, Texas |
| Oct 20 - 21 | THE 5TH EUROPEAN SOLAR THERMAL ENERGY CONFERENCE – ESTEC 2011 | Marseille, France |
| Oct 22 - 26 | 3RD ANNUAL ALTERNATIVE ENERGY FOR DEFENSE | Washington, DC |
| Oct 31 - 03 | 2011 FUEL CELL SEMINAR & EXPOSITION | Orlando, FL |
>>> Industry Forums

Please take a moment to sign up and post your questions and share your expertise.
We've added news feeds from Peter Lynch (Solar Stock Analysis), The Fuel Cell and Hydrogen Energy Association, Oilprice.com and Fuel Cells 2000. We're looking for more so let me know if you have a news feed that you would like to include here.
If you have ideas for new topics, methods or features, don't hesitate to voice them. We have set up what we think are some important forums but this is just the beginning so we need your input and participation to make it grow into a valuable source of information.
>>> Self Serve Marketing Features
Publish Your Story at AltEnergyMag
The process is very simple. Just email the article (news@altenergymag.com) along with any diagrams, photos etc. that you wish to have included. Length is not restricted. We do all the formatting and title graphics etc. and then let you preview the finished product before it goes live.  Biographies and company links can also be included.

Please bear in mind that we seek educational articles focusing on the technologies and benefits to readers rather than simple product cut sheets and promotional material.
Publish Your News
Just copy and paste news stories
Free Service
Google News Source
Free Company Directory Listing
Click Here to get started
Marketing Program
Enhanced Company Listings, Hot Product Listings, Enhanced News Publication Services, Special Event News Reports, Discounts and Special Offers
Send eMail to sales@altenergymag.com for details
---
Tell your friends about this newsletter. Keep up to date with the Alternative Energy Industry and all the new products it involves.
Please help us thank our sponsors and keep this resource free by visiting their websites and telling them you saw their ads at altenergymag.com.
Many thanks for your continuing support.
Bob Hetherington bobh@altenergymag.com
You are subscribed to our Newsletter List as [email]
We have many options for email subscriptions. This will insure that you receive content specific information in a timely manner. Please click the "Manage your subscription" link in the footer of this message. Then click "View my profile" to select the content you wish to receive. This information can be updated at any time. Our goal is to provide the information you want when you want it.
We look forward to staying connected.