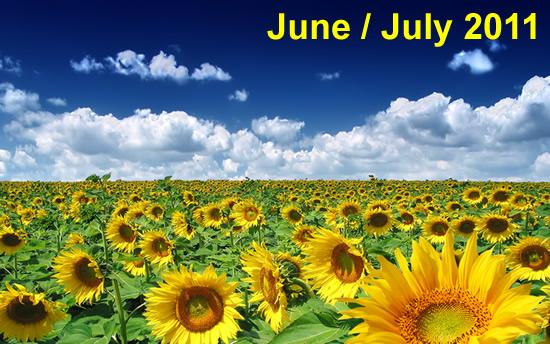 Featured Articles


AltEnergyMag – 2011 InterSolar North America Report
07/12/11 - Altenergymag
Intersolar promotes the development of business opportunities throughout the North American solar industry. There are 800 exhibitors and 22,000 trade visitors expected at the 2011 exhibition, co-located with SEMICON West. The accompanying conference expects 1,600 attendees. Since its establishment in 2008, the exhibition and conference have developed into the premier platform for the solar industry in North America. Intersolar North America focuses on photovoltaic and solar thermal technology and has quickly established itself among manufacturers, suppliers, distributors and service providers as a vital international industry meeting point.

States Drive Impressive Fuel Cell Growth
07/12/11 - Evelynn Escobar-Thomas - Fuel Cells 2000
The fuel cell industry is still finding its foothold in the energy technology portfolio, but supportive state policies that help foster fuel cell installations, company relocations and growth will help keep the U.S. at the forefront of fuel cell commercialization for a wide variety of applications and power needs.

Assessment of wind resources will help onshore development to take off
07/12/11 - Peter Herbert Meier - TÜV SÜD Industrie Service
Systematic wind mapping offers a standardised data foundation for regional planning, taking the identification of areas which are particularly suitable for wind-farm projects to a completely new level. At the same time, it supports investors, planners and operators in identifying attractive sites and estimating amortisation periods. The independent TÜV SÜD experts have long-standing international experience, supporting wind projects across the world from planning to construction and operation.

St. Louis County Missouri Parks & Recreation Dept begins incorporation of Solar Equipment
07/12/11 - Daniel Poett - G2Power Technologies
The four larger panels pictured, consist of two systems. Upon a closer look, an observer will notice that visually the system is divided up in to two pairs of collectors that have a slightly different appearance from one another. Of the two pairs, one pair creates hot water for the facility and the other pair creates warm air for the structure.

European Emissions Trading System Phase III
A First Overview
06/29/11 - Bill Bizios
Several positives resulting from the Phase 1 "learning by doing" exercise assisted the ETS in making the Phase 2 process run more smoothly, including: (1) greatly improving emissions data, (2) encouraging development of the Kyoto Protocol's project-based mechanisms

Improving Conversion of Solar Leads:
Simple tips for installers to increase sales
06/29/11 - James Tong for Clean Energy Experts
For most solar companies, an increase in lead conversion by 1 percentage point would have the same impact on sales as increasing your lead volume by 10 – 20% or more. In this 4 part series, we'll cover simple tips for installers to improve lead conversion through each stage of the sales process.

Taking On Your Competitors in a Crowded Energy Market
06/29/11 - Tory Patrick - Vantage Communications
Traditional and new marketing tools will help companies stay ahead of the curve, connect with their audience in a meaningful way, and stand out among competition to grow their business.

Green Technology Inspiration
06/29/11 - Davel Foote - IpAuctions, Inc.
As the Research/Marketing Analyst for IpAuctions, Inc.™, I have explored many industries and several aspects of the Intellectual Property field. Whether we are retained to assist in licensing or selling patents outright through our live on-line auctions or private offerings, I have had many opportunities to see into the windows of inspiration and the people who drive technology's growth that most individuals are unaware of.

Q1 2011 Solar Deal Volume Comparison
06/15/11 - Jack Calderon and Chaim Lubin - Lincoln International
2011 is off to the fastest start from a transaction perspective since this activity has been tracked. The consolidations of solar project portfolios and sales of solar projects continue to dominate the transaction landscape. However, the increased availability of credit has generated a significant increase in private investment both through the acquisition of projects as well as companies within the supply chain.


Install geothermal loop systems designed for tomorrow's needs
06/15/11 - Stan Marco - GeoSmart Energy & GeoSmart Drilling Services
The right heat pump, the right loop system and the right-sized pipe will meet the heating and cooling needs of the entire house or business both now and in the future, ultimately generating proud and satisfied customers and reflecting well on the industry.

Why Japan Will Turn to Solar Energy Following Fukushima
06/15/11 - Dr. John C.K. Daly for - OilPrice.com
As the dire news continues to leach out of Fukishima, the silver lining in its nuclear cloud is that renewable energy technologies, despite their daunting start-up costs, are receiving renewed scrutiny.


Interviews

Electric Vehicle Market Expansion in China
07/12/11 - Dan Malone - Dykema
China fully intends to make its automotive industry one of its pillar industries; and those who do business there must be ever mindful of that reality. China appears determined to segue from "Made In China" to "Made By China". The profundity of that change in preposition should resonate even among those doing well in China.

SunWave Technology
07/12/11 - Mary Grikas - Petra Solar
Smart Solar is highly distributed, large scale solar coupled with Smart Grid technology installed in partnership with utility companies. Smart Solar builds solar in a reliable and cost-effective way that mitigates challenges faced by traditional solar. Smart Solar is the best insurance for long-term grid stability.

Solar Installation Education
06/29/11 - Joe Thomas - MAGE SOLAR USA
PV is a proven technology, and the industry is growing at a very rapid pace. Training is essential, and NABCEP certification is driving the industry to a high standard. Train, obtain your certification, align yourself with a company that offers quality products, and stay abreast of new products, methods, processes and code changes.

Energy Conservation with Belkin Conserve
06/29/11 - Kevin Ashton - Belkin Conserve
We're on track to have 10 billion people on the planet by the end of the century, and everyone is consuming more than ever before. We face imminent extinction if we don't find a way to support more people with less energy, water, and everything else we consume. It's a big challenge, but one Belkin is becoming very focused on addressing.

Careers in Alternative Energy Industries
06/15/11 - Martin Pocs - DHR International
There's clearly a demand for engineering degrees, particularly mechanical engineers to work on the maintenance and design of wind power components. For the first time ever there's a career path for environmental engineers, as well, as we're witnessing a renaissance of excitement for a field that didn't even exist 5-8 years ago.

Milbank Moves Into Wind Industry
06/15/11 - Lavon Winkler - Milbank Manufacturing Co.
Milbank studied renewables for years before deciding to enter the industry. Distributed wind generation allows nearly 70% of the US to install their own turbines, to produce their own power and control their own energy costs and consumption.

Solar Cogeneration - The highest utilization of the sun's resources
05/31/11 - Gilad Almogy - Cogenra
Solar cogeneration combines proven photovoltaic (PV) and solar thermal technologies to maximize total collected energy and optimize economic benefits for institutional, commercial and industrial customers. Using up to 80 percent of the sun's delivered energy


More Articles


2011 AWEA WindPower Conference & Exhibition Report
05/31/11 - AltEnergyMag
The AltEnergyMag team had the opportunity to walk the expo floor and visit with companies from across the industry for a peak at some of the new products that will be showcased this year. Here is a compilation of some great new products that should be an interest to you.

Biomass Exchange – A Plug in the Missing Link
05/31/11 - Setu Goyal
In India alone, one can observe several cases where bio-energy projects of the scale greater than 5 MW are on sale already, even with their power purchase agreements still in place. Such events necessitate the need to have a mechanism in place which would further seek the promotion of such technologies.

Does the Public Sector already hold the key to delivering energy efficiency?
05/31/11 - Chris Bronsdon - Scottish European Energy Centre (SEGEC)
So implementing energy efficiency measures sounds like a good idea in principle, but how can local authorities or municipalities balance the equation of technology costs and fund the capital expenditure?

AWEA 2011- Special News Report
05/31/11 - AltEnergyMag
News announcements from AWEA 2011


Key Issues In the Clean Tech Industry: The Role Of Public Relations
05/31/11 - Keith Zakheim - Antenna Group
Once of the greatest barriers to the adoption of new clean technologies is the upfront cost, with the resulting sticker shock sending consumers running. Many clean tech firms offer attractive financing packages, but fall down on marketing them effectively, or -- on an even more basic level -- adequately explaining them.

Bankable Projects Needed
05/31/11 - Chris Bronsdon - SEGEC
Many of the current business models won't deliver the project investment needed in the future.

Solar Installation on Parking Deck Will Save Taxpayers $1 Million in Energy Savings
05/31/11 - Pfister Energy, Inc.
This project is a win-win for the County, not only in terms of monetary savings, but also by establishing the County of Bergen as a role model for other counties and municipalities in the state to adopt renewables and implement clean energy practices.

First Renovated Residential High-Rise Worldwide to Reach Passive House Standard
05/31/11 - Fraunhofer Institute for Solar Energy Systems
The primary energy demand for heating, hot water, ventilation, lighting and electricity was reduced by 40 percent.

DTE/ESD Energy Conference and Exhibition
05/31/11 - Bill Dickens
DTE Energy have held Alt energy conferences for some 16 years now and 6 years ago teamed up with the Engineering Society of Detroit to produce the Alternative energy conference for the State.
Comments (0)
This article does not have any comments. Be the first to leave a comment below.
Post A Comment
You must be logged in before you can post a comment. Login now.