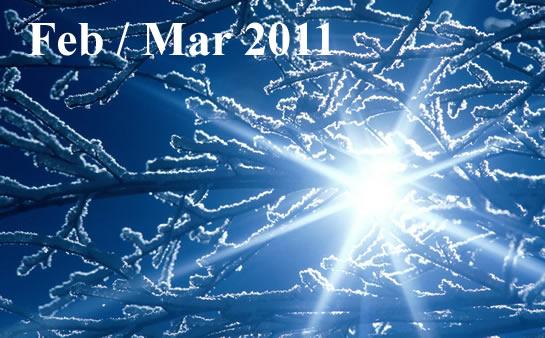 Featured Articles

Design Race in Wind Turbine Drivetrains
03/09/11 - Aedan Kernan - Leonardo Energy
The game is on. We will know in 2015 if the industry is likely to narrow down to one clear winning design, or whether there remain many routes to the same destination.

2011 Renewable Energy World Conference & Expo Report
03/09/11 - Altenergymag
We reached out to companies from across the industry for a peak at some of the new products that will be showcased this year. Below is a compilation of some great new products that should be an interest to you.

Ecotech Institute Applauds Colorado for its Leadership in the Cleantech Industry
03/09/11 - Michael Seifert - Ecotech Institute
Recent Energy Report by Denver Metro Economic Development Corporation Highlights Significant Achievements for Colorado

Global Small Hydro Projects in Development
02/23/11 - Pallav Jhala - Global Data
The advantages of generating electricity from small hydropower coupled with a rising interest in the sector has led to increased government support policies which will derive installations in many countries in the years to come. Cumulative installed capacity of small hydropower is expected to reach 140 GW in 2015 and 201 GW in 2020.

2010 Solar Deal Volume Comparison
02/23/11 - Lincoln International
The transaction landscape of 2010 highlights the increasing consolidation trend within the solar energy industry. Primarily, this consolidation occurred later in the value chain with acquisitions of EPC integrators/ developers and producers of solar energy. This trend is expected to continue as companies and investors look to increase their portfolios of completed solar projects and pipeline opportunities.


Alternate Ways to Overcome Energy Crisis in Pakistan
02/23/11 - Engr. Faiz Mohammad Bhutta
One of the barriers in growth of Alternate and Renewable applications is the lack of presence of one sole Energy Administration Authority for regulation of energy sector. We strongly recommend that that one Energy Administration Authority should be evolved to streamline decision making.

Choosing a Portable Renewable Energy Generator -
02/23/11 - Jenny French - SUNRNR
Power generation systems have hundreds of applications. This article will focus on portable generators in specific and a range of their applications and sizing considerations in general. The intent is to address the frequently-asked questions, "What will this generator run?", "For how long?", and "Will it run my house?" Those questions usually have to be answered with the question, "What do you want (need) to run?" which defines the application.


Increased Auction Activity in Alternate Energy and Green Technology
02/23/11 - Davel Foote - IpAuctions, Inc.
As well as being approached to auction IP in this field of technology, IP Auctions have an increase of inquiries for this technology from corporations, IP attorneys and brokers, as well as Venture Capitalist and Seed Venture groups.

"Green jobs" Come in Every Shape and Size
02/23/11 - Ecotech Institute
Thousands of careers forced to change and adapt in the new energy economy

Where the Solar PV Industry Needs to Go - Now!
02/11/11 - Peter Lynch
The technical advances of cost effective PV and advanced storage along with the legislative changes must occur if the industry is to grow rapidly enough to become a significant component of the world's future energy portfolio in the next 15 to 20 years (i.e. PV supplying more than 20% of the world's electricity).

Food Waste to Energy Conversion - Indian Perspectives
02/11/11 - Setu Goyal
The anaerobic digestion technology is highly apt in dealing with the chronic problem of organic waste management in urban societies. Although the technology is commercially viable in the longer run, the high initial capital cost is a major hurdle towards its proliferation. The onus is on the governments to create awareness and promote such technologies in a sustainable manner.

Contractors utilize new technologies to provide Solar Installations - Karen Edwards
02/11/11
Many roofing contractors see the importance that solar will play in their future business but realize they don't necessarily have the expertise required to offer solar. With new construction starts and completions remaining down, it's more important than ever for the traditional roofing contractor to be able to provide solar solutions to their customers who may be inquiring about a new roof.

Octopus Diagrams and Buckminster Fuller's Desigm Challenge
02/01/11 - L Michael Hohmann
Sustainability is the Grand Unifying Theory for finding the Ultimate Answers to Life, Universe and Everything --- and the answer for Earthlings is Sunshine --- All else is Moonshine.

Optimizing Communication Networks in Renewable Energy Markets with Wireless Technologies
02/01/11 - Colin Lippincott
Each of the applications that can be performed using data radios in solar and wind power generation plants are conducted today in many thousands of other market applications. These radios are relied upon in mission critical monitoring, controlling and data acquisition situations in the harshest weather and RF conditions.

A Bean Called Castor Can Cut Carbon & Fuel the Future
02/01/11 - Center for Jatropha Promotion and Biodiesel
Vast scope exists for exploitation of castor as a bioenergy crop although there are still some technological challenges to overcome. A combination of conventional breeding methods with biotechnological techniques provides newer routes for designing oils for biofuel purpose.

Hydrogen Gas as a Supplemental Fuel for Automobiles
02/01/11 - Tom Pettit
The system consists of a hydrogen tank, a pressure regulator two cut off valves, a distribution manifold and 4 fuel injectors.

FuelCell Energy Fuel Cell Systems in California
02/01/11 - Fuel Cells 2000
These installations help propel not only FuelCell Energy's image and financial stability, but also California's standing as a fuel cell leader in not only the United States, but the world.

Testing times for wind turbines
02/01/11 - John McNab
John McNab, assistant product manager at the Seaward Group, looks at what's involved in the protection of wind turbine electronics and electrical systems from lightning strikes and the latest in digital microhmmeter earth bonding measurement and related safety testing.

3 Case Studies from Canadian Solar
01/14/11
Canadian Solar Inc. is one of the world's largest solar companies. As a leading vertically integrated provider of ingot, wafer, solar cell, solar module and other solar applications, Canadian Solar designs, manufactures and delivers solar products and solar system solutions for on-grid and off-grid use to customers worldwide.

Sponsored Articles

A Catch-22 in the PV Connector Industry?
02/23/11 - Remke Energy
PV connectors are part of a system, and how well they connect and disconnect along with the ease of assembly & installation is important to installers. Electrical standards for PV connectors have been established through the National Electric Code (NEC) and UL. However no design and/or contact standards exist. The 'defacto' standard has not been uniformly accepted by manufacturers. The need for compatibility and interchangeability is clear.

Interviews

Single vs. Dual Axis Solar Tracking
03/09/11 - David Cooke - True North Power
Generally Dual-axis trackers are more accurate in pointing directly at the sun which is usually the brightest spot in the sky, however, Dual axis comes at the price of higher complexity and lower reliability ( more down time and more maintenance) than single axis.

Sanyo Smart Energy System
03/09/11 - Arturo Zarate - SANYO North America Corporation
The "Smart Energy System" is a SANYO energy management system that includes clean, renewable energy generation, energy storage using lithium-ion batteries, smart & energy efficient appliances, cooling systems, and an energy management system that uses the energy generated and stored efficiently.

Doing Business with China & Creating American Jobs
03/09/11 - Albert Lin - Emberclear Corp
The role of fossil fuels and renewables will begin to meld into an acceptable state of necessary coexistence and development simply because the economics and math dictate such an outcome. But the inability to excise coal from the equation will drive the innovation cycle to make it better.


Geothermal Energy Outlook
02/11/11 - Marin Katusa
Marin Katusa is an industry leading energy investor, with a specific expertise in global resource exploration and alternative energy production, including emerging 'green' energies. His in-depth market knowledge and close network of industry experts allows him to provide informed perspectives on the economic viability and investment potential of wind, solar, hydro- electricity, geothermal, and nuclear energy as well as oil, natural gas, and coal. He digs deep to spot trends before it makes it on to the radar of traditional market pundits.

Suntech Opens Solar Manufacturing Plant in Arizona
02/01/11 - Steven Chan
Our local manufacturing operations will allow Suntech to meet the growing demands of customers throughout the Americas, including our dealer network with more than 400 partners. One advantage is that all modules produced at the facility are compliant for procurement in American Recovery and Reinvestment Act (ARRA) projects.

Parallel Solar Technology
02/01/11 - Michael Lamb
Our Parallel Solar approach handles voltage management at the module level, using a DC-to-DC converter (the vBoost) to boost each module's output. So the array has a high-voltage bus that will never exceed its set voltage as it feeds the central inverter. This allows you to connect the modules in parallel rather than series.

Solar Shutters
01/14/11
The PV Solar Shutter is a perfect fit because it requires no roof space and no large battery banks, and is very easy to install and uninstall. Each unit can purchase its own shutters, have its own power source, and offset usage one window at a time. Even renters can, like any other window covering, take their shutters with them if when they move.

Renewable Energy Education
01/04/11 - Prof. David Rivkin, PhD - Ohalo College of Katzrin
Educational programs from colleges, universities and other institutions should be at least compliant with ISPQ Standard 01022. In regions where there is a body licensed to perform accreditation, such as the Interstate Renewable Energy Council in North America.

Exploring Thermal Energy Storage
01/04/11 - Greg Glatzmaier
Greg Glatzmaier, Senior Engineer/ CPS Project Leader for Thermal Energy Storage at the National Renewable Energy Laboratory (NREL) explains that working to make the thermal energy storage aspect of concentrated solar power (CSP) more attractive to utilities by lowering the cost overall is a main area of focus.

Solders and fluxes for soldering PV panels
01/04/11 - Josef Jost
Our R&D department currently is working and will continue to work on new, innovative products for the photovoltaic industry. Already this year, we have introduced new alloys and fluxes. We will launch even more new products in the coming months.

PV Front Sheet Systems
01/04/11 - Julia DiCorleto
A pre-laminate that combines ETFE frontsheet and EVA encapsulant, features all the performance benefits of both with improved production efficiencies, including reduced wrinkles and precise alignment. In addition, it can help module manufacturers achieve lower systems cost with reduced packaging and shipping costs.

More Articles

Alternative Energy Issues in Cameroon
01/14/11
ORGANIZATION FOR INTEGRATED RURAL DEVELOPMENT (ORIRUDEV) is a Service Organization created in 1998 in the Republic of Cameroon. ORIRUDEV has long standing years of working experience in the domain of Rural infrastructures, Environmental Protection and Renewable Energy. ORIRUDEV contributes to improve rural livelihoods through making available, affordable, environmentally sound, basic electricity services from renewable energy (solar, hydro, wind).

Australian Students Break Solar-Powered Land Vehicle Speed Record
01/14/11
According to the company's stats, the Sunswift IV produces about 1200 watts – the same power it takes to run a toaster.

Dear President Obama and House Speaker Boenher
01/14/11
Here are two letters written to President Obama and House Speaker Boehner outlining some common frustrations.

RENEWABLE ENERGY IN INDIA: SCOPE FOR FOREIGN INVESTMENT
01/04/11 - Arkodeb Sinha
The 11th year Plan (2007-2012) of the Government of India has indicated the importance of energy in the following words: 'Availability and access to energy are considered as catalysts for economic growth. The envisaged growth of the economy at 9% in the Eleventh Plan cannot be achieved without a commensurate increase in the availability of energy.

Wind Powering America and Southwest Windpower Partner to Bring First Wind Turbine to Idaho Town
01/04/11 - Southwest Windpower
Wind for Schools program implemented at Pocatello Community Charter School

Shouting From the Rooftops: The Importance of Promoting Technological Innovations in Solar Energy
01/04/11 - Jonathan Gosberg
The success of new and emerging PV technologies can have a profound effect on our economy, providing a much-needed shot in the arm for various industrial sectors, while also paving the way for future technological advancements.

Understanding the Impact of the New Lisbon Treaty on EU Energy Policy and the Opportunities for Scotland
01/04/11 - Ellie Jones
If projects are to succeed, their technologies must be aligned with those set out in the Strategic Energy Technology (SET-) Plan"; Bioenergy, CCS, Grids, Fuel Cells & Hydrogen, Nuclear, Energy Efficiency, Solar and Wind.
STAY TUNED FOR WEEKLY UPDATES
NEXT FULL ISSUE - COMING IN APRIL 2011
OPEN FORUM - ALTERNATIVE ENERGY and TRANSPORTATION TOPICS
The idea of this eMagazine is to give those of you with some knowledge on the subjects of green building or alternate energy systems and technology a chance to share your knowledge and experience. To submit your article for the next issue all you need to do is send an email to news@altenergymag.com with a short description of what you'd like to write about.
Comments (0)
This article does not have any comments. Be the first to leave a comment below.
Post A Comment
You must be logged in before you can post a comment. Login now.