Google Invests $280 Million in SolarCity Project Finance Fund
Google Inc. (GOOG) agreed to put $280 million in a new project financing fund for SolarCity Inc., a financier, installer and owner of rooftop photovoltaic systems, in the Internet search engine's biggest clean-energy investment. The deal with San Mateo, California-based SolarCity is also Google's first investment related to distributed solar energy, Rick Needham, the search engine's director of green business operations, said by telephone yesterday. The investment is a "quadruple-win" because it will enable more homeowners to lower their energy bills while also shifting to renewable energy, allow SolarCity to expand its business and facilitate wider deployment of solar, Needham said. Mountain View, California-based Google will also make a return on capital upfront, he said, since its investment is supported by the Treasury Department's cash grants program. As an alternative to tax credits, the program reimburses investors for 30 percent of project expenditures for solar. The program was created after the 2008 financial crisis to revive spending on clean energy. Projects must begin construction by the end of 2011 to be eligible.
Comments (0)
This post does not have any comments. Be the first to leave a comment below.
---
Post A Comment
You must be logged in before you can post a comment. Login now.
Featured Product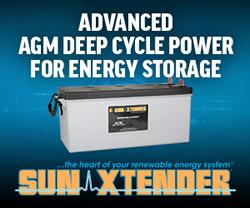 AGM Deep Cycle Sun Xtender® Batteries offer superior reliability and extended cycle life for renewable energy storage systems. Since 1987, the Sun Xtender renewable energy line has been manufactured with the same proven technology and rigorous quality standards used to produce Concorde Battery's military and civilian aircraft battery lines. . Processes and materials unique to Sun Xtender® set them apart from the competition. The robust build is designed for grid tied or off grid systems in residential, industrial, and commercial environments. With sizes and capacities to meet a variety of renewable energy requirements, Sun Xtender can customize any battery bank. Premium, reliable batteries Crafted for Quality in the USA.