Spray On Solar Cells
An inch-long array of some of the tiniest solar cells ever built has been successfully tested as a power source for microscopic machines, a new study reports. Instead of using silicon, Xiaomei Jiang and her colleagues from the University of South Florida turned to a polymer (a long organic molecule made of repeating structural units). The polymer they selected has the same electrical properties as silicon wafers, but can be dissolved and printed onto flexible material. Jiang and her colleagues made 20 tiny cells - each the size of a lower case "o" in standard 12-point print - and joined them together in an array to power a microscopic chemical detector. Read more here.
Comments (0)
This post does not have any comments. Be the first to leave a comment below.
---
Post A Comment
You must be logged in before you can post a comment. Login now.
Featured Product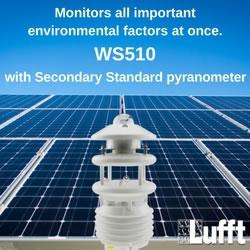 WS501 series Compact Weather Stations for measuring of air temperature, relative humidity, solar radiation, air pressure, wind direction and wind speed. Relative humidity is measured by means of a capacitive sensor element; a precision NTC measuring element is used to measure air temperature. The world renowned technology of Kipp+Zonen CMP3 is integrated. Ultrasonic sensor technology is used to take wind measurements. Measurement output can be accessed by the following protocolls: UMB-Binary, UMB-ASCII, SDI-12, MODBUS. One external temperature or rain sensor is connectable. The WS503 is a similar sensor available with a tiltable pyranometer for plane of array measurements of solar panels efficiency. Surface temperature and rainfall accessory sensors are also available as add on to the weather station.